FIVE years as a city councillor but a lifetime in politics, Metropolitan Mayor Daniel Butler was destined for life as a public representative mainly because of the influence of his father Richard, a former Cathaoirleach of Limerick County Council.
In fact, his first term in local government came about when he was co-opted to take his father's council seat after he died in December 2013.  He retained his seat the following June and, having served as Deputy Mayor, was elected Metropolitan Mayor last year.
It's a role that has given him the opportunity to see many of the positives on offer in Limerick City.
Continue Reading Below…

"There are some amazing things going on in the city very quietly tucked away," he told the Limerick Post Podcast.
"To be able to go out and see that, and give those people the recognition they deserve, is a great honour."
During his term, the Fine Gael Councillor wanted to "honour people who were in the background".
"If you go to a GAA club, people forget about the person putting out the corner flags, putting up the goals, cutting the grass. Those are the types of people I was after.
One of his highlights during his term involved recognising people involved in music in Limerick.
"The last one I really enjoyed, because I'm a big music fan. I got to honour people who are involved in the background of the local music scene. They often don't get the credit they deserve as they aren't always centrestage.
"The person who puts the gig together, puts the event together, who's taking on the risk. So we honoured a few people that are involved, we had a big presence here in City Hall.
"And just to see and realise; and take a moment to take stock of the incredible musical culture that we have in the city; it was fantastic. They reckon it was probably the first time music was recognised like that in the city."
Mayor Butler believes he is "getting to shine a light" on their achievements and "make us value what we have in our city".
Another group that earned his admiration are the members Limerick Suicide Watch (LSW) who he accompanied on patrol last New Year's Eve. Having being trained in suicide intervention, he was familiar with suicide interventions in his day-job with Limerick Drugs Education and Prevention Strategy (DEPS).
"I didn't want to make too much of a deal out of that, to be honest," he said.
"Unfortunately we had a case, a very serious case where somebody went into the water. It was witnessed by one of the members of the Limerick Suicide Watch. I was on patrol and it was my job to call the emergency services at that time."
Although he didn't witness the incident, the fact that he saw how the group deals with situations, and what they expose themselves to, gave him a good understanding of the service they provide.
"There were a number of things I noticed that night. The incredible response of Limerick Fire and Rescue was one of them. When the call came in, they were down on the quays within a minute. They were in the water within three, which is their target. That's just incredible.
"They got the person in the boat, cleared their airwaves immediately and administered CPR as they transported him across to St Michael's. The last I heard was that he was "critical but stable".
One troubling image that struck a discordant note as he went to join the rescuers was the attitude of people taking photographs and videos of what was happening.
"People recording it, people taking pictures. At the end of the day, this was someone's relative, you know, somebody's son or daughter. I can only imagine how I would feel if I saw somebody I didn't know publishing a video or photo like that of a member of my own family.
Although that was incredibly disappointing, it wasn't all bad and the number of people shaking hands with the LSW volunteers and thanking them for their efforts was heartening.
"There's a real gratitude from people out there, a recognition for what they do. It was beautiful to see people take the time."
A city that is being driven by youthful confidence
LIMERICK City is evolving with a confidence that is driven by a more youthful population" according to Metropolitan Mayor Daniel Butler.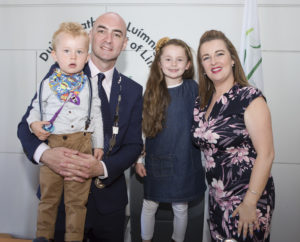 "We've seen the emergence of a younger population, the confidence that they bring, and the questioning they've brought as well. We have far-more educated young people who are asking the questions and are far more self aware."
The Metropolitan Mayor says he knows the focus will always be on the economy as people need jobs and something to do in life.
"Having a job is an important part of your mental well-being and keeping happy and healthy. But there's something about the feel in the city that has changed; the kind of sense of self."
And he believes that this goes "beyond the confidence", as the "self of identity" of Limerick people has changed.
Since the people in the city "stopped worrying" about what other people thought of the city, and figured out "who we are" and to "be proud of that".
"The one thing I love about Limerick is our edginess. We are edgy and this draws on the city's industrial and docks background. Some of the graffiti around the city, as well as the spoken word in local hip-hop also draws from that culture.
As for the future, he is confident that the University of Limerick will have a base in the city centre.
"That will be a real game-changer for a number of reasons. To bring an educational institution of that magnitude into the city will change the viewpoint of the city, will bring young students into the city as well, and that will be great."
"I think we will see more employers in the city as well, we will see more companies based in the city. Because globally we are seeing that companies want to be based in city centres, mainly because those they employ want to be living in cities."