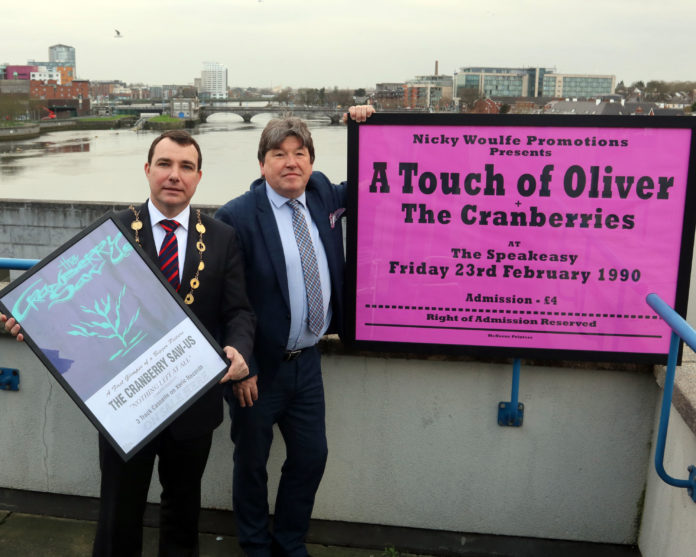 LIMERICK City and County Council were this week asked for €33,000 towards the creation of a music memorabilia visitor centre that would include an entire room devoted to Dolores O'Riordan and the Cranberries.
Speaking at City Hall this Monday, Nicky Woulfe of Music Memories and Memorabilia, told council members that the funding would help offset some of the expected costs, which are estimated to reach over €100,000 for the project.
The original project had 157 relics from the world of popular music from the past 50 years but has now grown with up to 1,200 items identified for an extensive public visitor attraction.
According to Mr Woulfe, the collection has been promised items from luminaries such as Thin Lizzy, Van Morrison, Horslips, Mary Black and as well as the Cranberries.
"Our history of venues in Limerick and the Mid-West is also important and worth preserving. Venues like the Savoy, which began its history back in 1935, needs to be maintained, along with venues like the City Theatre, St John's Pavilion and the Stella Ballroom, which, of course, launched the career of U2, who would go on to become one of the biggest bands in the world," he told Metropolitan District councillors.
He said that trustees from Music Memories and Memorabilia have spent the last two years travelling the world to other visitor destinations in Havana, Cuba, Paris, London, Barcelona, Berlin and Liverpool to discuss the possibilities of co-presenting exhibitions.
Mr Woulfe also envisions a specially dedicated Cranberries room as a major attraction to the Limerick visitor experience.
One of the biggest costs the project faces, he said, is framing the exhibition items.
"Collecting memorabilia, appreciating and preserving items of interest from periods of our past, are all intrinsic parts of my own practice as a collector, so the idea of the project Music Memories and Memorabilia as a full-time visitor attraction has been a lifelong ambition.
"We believe that with the support of Limerick City and County Council that it can and will make a very real and significant contribution to attracting and growing tourist numbers in the years ahead, given how unique an exhibition it is," he concluded.