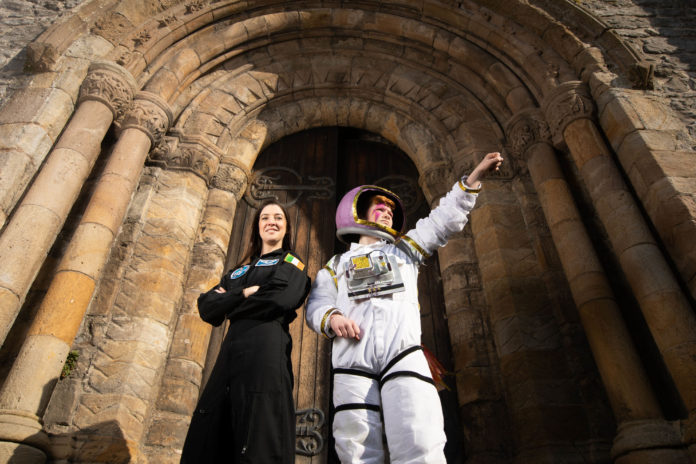 THE woman who is in the running to be Ireland's first astronaut was at the launch of Limerick St Patrick's Festival which will be held on Sunday, March 17.
And it was an appropriate setting for Dr Norah Patten, given that the theme of this year's parade is 'One Giant Leap' marking the 50th anniversary of Neil Armstrong's landing on the moon.
The Mayo native is Grand Marshal for this year's parade which is the highlight of a three-day festival which begins with spectacular fireworks display on Saturday, March 16  and will include a 'Museum of the Moon' in St Mary's Cathedral and a 40 foot panoramic wheel giving 360 degree views across the city skyline.
21 bands from the US, Estonia, Germany, Britain as well as local bands will compete in Ireland's only international band competition. Spectators can see the marching bands along O'Connell Street on Monday, March 18 from noon.
The St Patrick's Day Parade, which gets under way at noon on Sunday, will see tens of thousands of spectators lined out along O'Connell Street from Roden Street to Rutland Street.
Highlighting her Limerick links, Dr Patten said: "When I was 19, I moved from my home in Mayo to Limerick. I've spent most of my adult life here and I feel a deep sense of gratitude to the people of Limerick for the welcome and inclusion I have experienced over the years.
"It's a great honour to accept the invitation to be Grand Marshal this year. It is so wonderful to hear that my ambition and progress to become Ireland's first person in space is inspiring others to reach for the stars and it is very exciting to hear the theme this year is 'One Giant Leap' in memory of the moon landing," she added.
Speaking at the festival launch on Tuesday, Mayor James Collins said: "This year there is a host of events taking place around the two main attractions of the parade and band championship. Limerick has so much to offer locals and visitors alike, in what has become a weekend full of celebrations."
Sheila Deegan, Limerick's Culture and Arts Officer said the that the parade was the centrepiece of the weekend's festival, which now extends to three days.
"It's fantastic to see over 20 bands coming to Limerick for the 49th International Band Championship. I would encourage everyone to go and see the moon indoors in St Mary's Cathedral. It will be a sight to behold'.
by Miranda Leahy