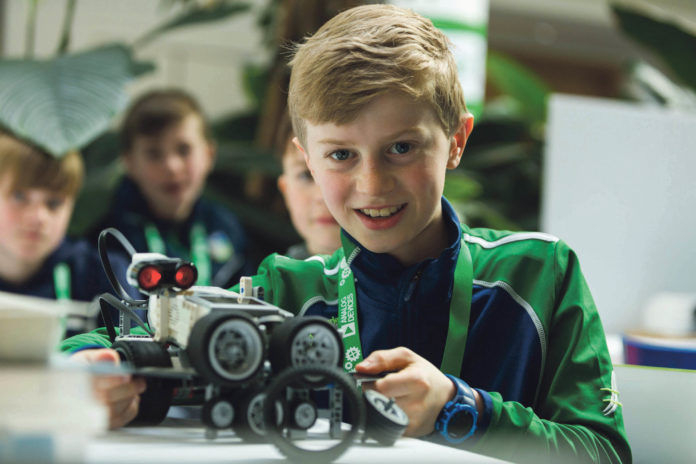 OVER 120 primary school students waged war with their self-designed sumo wrestling robots at the fifth annual Analog Devices Primary School Robotics Competition in Limerick last weekend.
And it was an occasion to remember for Kate Cremin, Adam White and Rían Lynch from Scoil Mhuire National School, Broadford who were overall winners of the competition.
Teams of 10 to 12 year olds from 32 schools across Limerick city and county gathered at the Analog Devices plant on the Raheen Business Park early on Saturday morning to build their own robots before pitting their robotic creations against each other that afternoon.
Due to its increasing popularity, the organisers have expanded the competition which encourages team work and creativity. It also facilitates learning Science, Technology, Engineering and Mathematics (STEM) in a fun environment.
Through these workshops, over 900 students working in teams, got to design, build and test their own robots.
Lego Mindstorms technology was used to create the robots which competed against each other for the school prize. They also got the opportunity to represent their school in the 2019 Analog Devices Primary Schools Robotics Final Competition.
Brendan O'Dowd, General Manager, Industrial Automation, Analog Devices, said the competition was a great opportunity for the young competitors to see the tremendous opportunities that a career in STEM could offer.
"They also learn that technology isn't something to be avoided but rather a challenge to be relished," he explained.
The day-long competition started with an Advanced Robotics Workshop where teams of three or four students designed and built their own innovative robots for a sumo wrestling style competition. In the afternoon,each team played four matches as part of the pool stages. At the end of the final, the team with the highest points was crowned the overall winners.
Mervyn Horgan from Learn it commented, "The response to the workshops has been fantastic. During each school visit, we have seen the children's enthusiasm and energy for STEM grow over the course of the day."
by William O'Leary