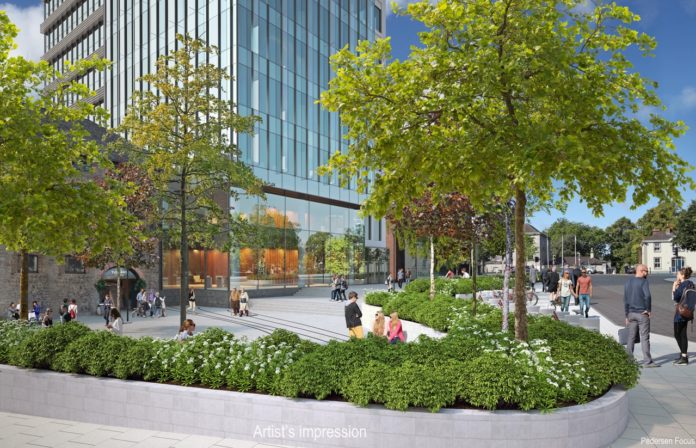 Limerick City and County Council confirmed that it has lodged a planning application to An Bord Pleanála for the Opera site – the largest inner-city commercial development outside of the capital.
The iconic site will be developed by Limerick Twenty Thirty DAC – a special purpose vehicle created by Limerick City and County Council in 2016 to transform a number of disused iconic sites in the city and county into catalysts for economic development and job creation.
The entity has been active over the last two and half years developing the world class Gardens International, which opened this week, advancing the mammoth Opera site project to planning, master-planning the 250 unit first phase of the Mungret Park housing development as well as the 10 acre Cleeves Riverside campus.
The 1.62hectare Opera Site, however, is the largest project in the programme and will be developed over a six year period at a total cost of around €180 m.  It is fully funded thanks to commitments from the European Investment Bank and the Council of Europe Development Bank.
The site was acquired by the then Limerick City Council in 2011 after a previous plan to develop it collapsed during the crash.
A transformational project for Limerick, Opera will be capable of employing up to 3,000 people across a 450,000 sq ft development. The project will be developed to LEED Gold and Nearly Zero Energy Building (NZEB) standards and is expected to take six years.
Mayor of the City and County of Limerick Cllr James Collins said this project is the one people have been waiting for "more than any" in Limerick's wider regeneration.
He said, "After stalling before while in private ownership, it has finally arrived, I'm delighted to say, at this key stage.
"We had the opening of Gardens International this week and that set a new standard in terms of office space for Limerick.  Opera is six times the size and will be the single most transformational project this decade in any city in Ireland."
Conn Murray, Chief Executive of Limerick City and County Council said, "Getting Opera to this key stage is a big moment for Limerick and the region, one we've waited a long time for.  We now see what this fantastic project will comprise and how it will change our city and the region for the good. The team at Limerick Twenty Thirty has worked tirelessly and meticulously to pull this mammoth planning application together and justifiably so."
The Limerick City and County Council CEO said the Opera Site will be the city's "biggest economic catalyst" in decades, and believes the "knock-on benefit" of the project in Limerick's society "will be enormous".
"We now look forward to completing the planning process and moving on to developing this game-changing development for our city and region," he concluded.