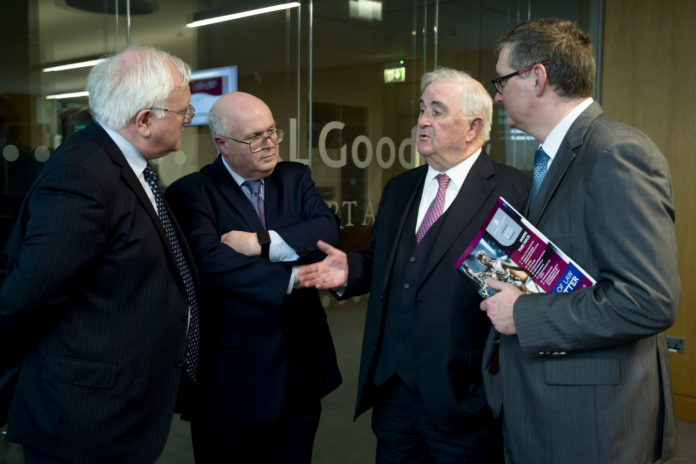 The University of Limerick has launched a new moot appeal court as part of its School of Law. The new moot appeal court is sponsored by A&L Goodbody, one of Ireland's leading commercial law firms. The court will be used by law students to run mock tribunals and court cases to hone their academic legal skills into practical legal skills in a simulated environment.
The launch of the new moot appeal court was marked by an event which took place on 20 March, chaired by The Honorary Mr Justice John Murray. Speakers at the event were Dr Vincent Power, partner at A&L Goodbody, and Prof John Friel of the University of Limerick who discussed what Brexit means for Ireland and businesses in Munster.
The sponsorship reflects the strength of the relationship between ALG and UL and reinforces ALG's commitment to improving the experience and learning of Irish law students.
Ronan Lyons, partner responsible for ALG's Trainee Solicitor Programme, said: "A&L Goodbody is delighted to sponsor the new moot appeal court at the University of Limerick.
This state-of-the-art facility will enhance the students' practical courtroom skills and reflects A&L Goodbody's values of innovation and market leadership. Every year we recruit a number of high-quality trainees, summer interns and co-op students from the University of Limerick and we look forward to our relationship with the University continuing to grow over the coming years."
Professor Shane Kilcommins, Head of the School of Law at University of Limerick, said, "This sponsorship agreement with A&L Goodbody is a very exciting development. It will allow our students to enhance their clinical legal education skills in a very supportive, innovative and pedagogically rich environment. Stakeholder engagement of this kind is also vital in the development of the School. It helps to maintain and build strong links with a leading law firm, offering the potential for a range of exchange possibilities between a professional community of practice and a community of scholarship."