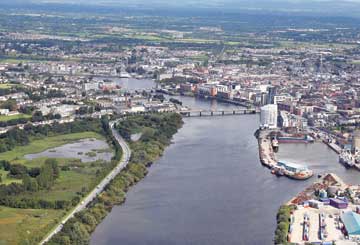 INFLIGHTFLIX International has today announced that Limerick will be featured in the next update of their Wild Atlantic Drive video guide on transatlantic flights from August. A select number of leading Limerick visitor experiences will be visible at 30,000 feet on flights all the way from North America from next month after local company InflightFlix signed a contract to provide Aer Lingus with destination video guides for the airline's inflight entertainment.
The search to find great experiences to inspire airline passengers to visit, stay longer and return is on and experiences in the midwest are invited to apply on inflightflix.com. From great restaurants, pubs to places to stay and family-friendly activities, the search is on for the standout experiences to inspire passengers inflight pre-arrival.
Applications are open in four categories including great things to do, amazing places to stay, entertainment, dining and shopping experiences.
The InflightFlix destination video guide to the Wild Atlantic Drive and Dublin will feature on Aer Lingus' inflight entertainment on all long-haul aircraft. Aer Lingus' transatlantic network boasts more than 3 million seats in 2019, operating 16 routes between Ireland and North America. Destinations include New York, Newark, Boston, Hartford, Washington, Chicago, San Francisco, Philadelphia, Seattle Los Angeles, Miami, Orlando, Toronto as well as Minneapolis.
"Last year we supplied Aer Lingus with the Wild Atlantic Drive video guide to inspire guests to visit and return to the world's greatest coastal driving route and we are delighted to extend our partnership with Aer Lingus to include Limerick said InflightFlix CEO Martin O' Regan.
"We are excited about showcasing the very best of the midwest with the help of the public through our online nominations process," Mr O Regan said.
"We're  delighted to partner with InflightFix once again and inspire our guests onboard to discover some the best attractions Ireland has to offer," said Marc Giles, Head of Guest Experience at Aer Lingus