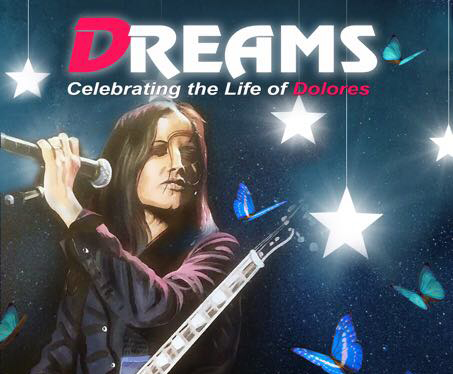 A NEW festival dedicated to celebrating the life of Dolores O'Riordan called Dreams happens this September in Bruff, County Limerick. Over three days from Friday 6 to Sunday 8, the festival promises live bands, art and more. Full line-up will be announced on August 17.
Dolores O'Riordan was born and raised near the town in County Limerick. The 40 million album-selling rockstar passed tragically in January 2018 and this festival celebrates her birthday and her musical legacy.
The town will also re-name its iconic park where Dolores was famously interviewed with her mother during her time as a judge on the Voice of Ireland. There will be a very special unveiling ceremony at the park on Friday 6.
The festival will focus on original music and will also host talks, community music gatherings, comedy, cabaret and spoken word acts. International Cranberries' fanclubs based in Italy and France have confirmed that they will be in attendance.
Rainer Lindheim is Co-Promoter and Stage Event Manager for the event and a close friend of Dolores stated that the festival is to become an annual event.
'We hope that this year's event will be a seed-planter for an annual event to take place in Bruff on the first weekend of every September. It's spirit is to celebrate original artists music and in some way to help showcase their own dreams."
Festival Co-ordinator Julianne Hennelly praised the community spirit in Bruff which has made this festival a reality with the help of the local business, arts and musical community.
"As an artist who works in the area of mental health I am honoured to be part of this project. Dolores has helped so many of us struggling with depression in Ireland and throughout the world, we want to celebrate her homeland which inspired her art and kind nature."
Brendan O'Riordan, brother of Dolores is also involved in the festival and hopes that the weekend celebrations will bring the wider rural community together.
"We want to celebrate Dolores and her memory. I have spoken to so many people who she inspired with her music, her songs helped them cope through the dark times and encouraged them to write and play. People in rural Ireland are often isolated and music helps bring communities together and that's what we aim to do on Dolores birthday."