CLAIMING sponsorship title to the Winter's biggest show at University Concert Hall, Specsavers Limerick confirms it is on board for the UCH/ Robert C Kelly production of 'Aladdin'.
Theirs is a fitting partnership. Specsavers Limerick is a leader in the healthcare sector for sight and audiology services for all age groups. The company is 30 years serving Limerick. UCH is in operation 26 years as an independent arts and entertainments venue that again, embraces all ages in its client base that extends across the Mid West and beyond.
University Concert Hall pantomime has gone from strength to strength and now enjoys capacity audiences. More than 27,000 people attending 36 shows last Christmas.
Week in, week out, Specsavers is working with its store partners to provide the best value optometry, audiology and other healthcare service to customers. There are three big stores in Limerick, Cruises Street, Castletroy Town Centre and Crescent Shopping Centre.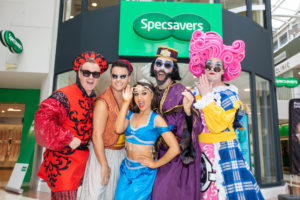 "We were very, very pleased that the concert hall approached us to come on board as production title-sponsor," store director Sinead Clohessy tells Limerick Post. "We have been a UCH supporter down through the years, both as patron and for the last few years, supporting the Sunday Cinema Screenings which are for families.
"Our objective is to give back to all our customers, young and old. It's about supporting local business and being a local face to a local business and providing that local support.
"Specsavers Limerick provides a range of healthcare services and employs more than 85  personnel here.
"We love working with and supporting local initiatives by University Concert Hall as a co-producer of this fully professional production, of such quality," Sinead says.
From UCH in Plassey, venue director Sinead Hope has huge welcome for Specsavers underpinning the 'Aladdin' pantomime. "Specsavers Limerick has backed our cinema season in recent years and we are truly delighted to be able to build on this relationship in the coming months to deliver an exceptional show this year.
"Should've gone to Specsavers???….We did!"
Featuring some of the funniest, wackiest characters in the world of panto with Abanazer, Widow Twankey, Wishey Washey and the Genie, 'Aladdin' at UCH opens out a surreal, funny and inventive new world this Christmas.
Book now at www.uch.ie for your preferred date as this Robert C Kelly co-production sells out annually; December 16 into January 5 of 2020.