THERE is an open invitation to attend the launch of a classical music album and the recital of some of its music by the recording artist, Sarah-Ellen Murphy. The Limerick contralto made 'Cantabile' at University Concert Hall, accompanied by Dearbhla Collins on piano, on the back of a bursary that was funded by Limerick City & County Council.
The launch/ performance date is Friday September 27 at 1pm. Sarah-Ellen gave Limerick Post some context prior to this UCH debut of art songs, German Lieder, oratorio and operatic arias.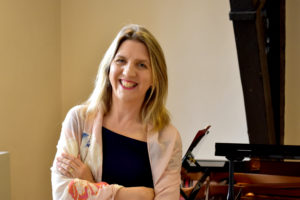 "I have been working on the CD since about January," explains the singer. "I received a bursary for €4,000 through the Individual Artists Bursary Awards and I was supported by UCH in being able to record the album there, where the acoustics are so good."
Her register as contralto, "which is the lowest for a female singer so I have a rich voice," she says matter of factly. "Contralto is the rarest voice – we are few and far between."
Leading opera roles for Sarah-Ellen have numbered 'Yoeman of the Guard', 'The World of Gilbert and Sullivan' and 'The Medium' by Cian-Carlo Menotti. Her talent lends itself to the songs and arias on 'Cantabile' (which means 'sung in a smooth style'),  music chosen in consultation with her singing teacher Olive Cowpar and with pianist Dearbhla.
"One of them is a song written by Limerick composer Fiona Linnane who has written 'Songs from Kate O'Brien', called 'Love Me Once More'."
The CD has German Lieder 'Allerseelen' from Richard Strauss among the Handel and Donizetti: "Lieder are so poetic and descriptive. The poem really affects the music."
Dave Keary of Red Door Productions finalised the recording and 'Cantabile' will sell at Steamboat Music and Savins. Audiences close to home will have heard this Limerick woman singing in benefit and seasonal concerts; with Limerick Choral Union, and opera with the staging in local heritage sites of Fiona Linnane's 'Off Tuskar'.
Look ahead to December engagements at No. 1 Pery Hotel with Opera Workshop for 'A Christmas Evening' on December 1, 8 and 15. She will then sing as    soloist in JS Bach's 'Magnificat' and Respighi's 'Lauda per la Natività del Signore' with Ancór Choir on December 17 at St. Mary's Cathedral.