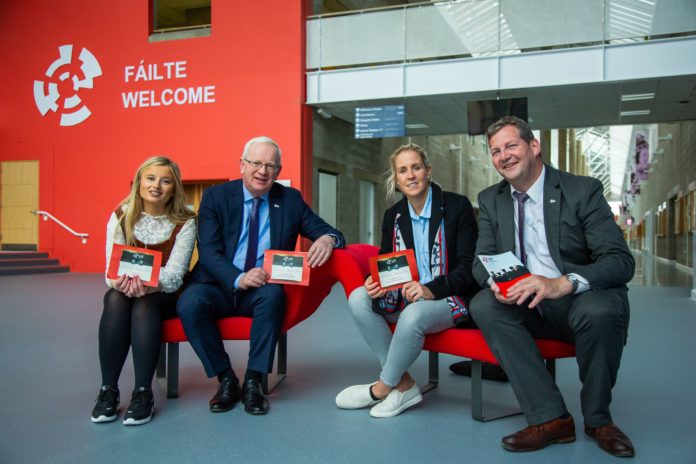 FORMER students of Limerick Institute of  Technology (LIT) will be honoured for their contribution to inclusivity and equality, achievements in sport, business, arts and culture, as well as their work in STEM (Science, Technology, Engineering and Mathematics), at the inaugural LIT President's Alumni Fundraising Ball which will take place this October.
The black-tie event will also raise funds for the college's Alumni and Foundation Programmes including access scholarships. More than €1 million in scholarship support has been raised in just five years. The [email protected] scholarship alone has provided financial support to more than 100 students.
President of LIT Professor Vincent Cunnane said, "We are very proud of our alumni, and it is a great privilege to be able to honour their achievements.  We have over 30,000 alumni working in every walk of life and shaping our society, so those we honour now are representing a great body of people, These awards are very much about reminding our current students that they too can go on to make significant differences in areas of industry, the arts and community care, not just in Ireland, but Europe and the world.
"Here at LIT we pride ourselves in supporting our students as they work towards their goals. It's very important that we also recognise our alumni for their achievements."
One student who benefited from the [email protected] programme is President of LIT Students' Union, Jade Foynes, who will share her story with attendees of the LIT President's Alumni Ball in the Limerick Strand Hotel on October 11, 2019.
Speaking at the launch of the inaugural LIT President's Alumni Ball, Dr Liam Brown, Vice President Research, Development, Innovation, LIT said, LIT is extremely proud of our graduates who continue to contribute to society in the region and beyond.
"It gives LIT great pleasure to recognise the achievements of our graduates in the areas of inclusivity, STEM, the arts and culture, business and sport. We hope that October 11 is the first of many alumni balls, during which we can continue to recognise the many achievements of the LIT alumni community of over 30,000 people."
Among the five recipients of the award on the night will be International Rugby Union Referee Joy Neville who has helped to break down barriers and become a role model to sports' women and men all over Ireland.
Ms Neville said, "I am extremely honoured and humbled to receive this award. Anyone associated with LIT knows the support LIT provides to its students to set and achieve their life goals. It is not surprising therefore that the alumni community are so willing to support their former alma mater as it continues to provide programmes such at [email protected]."
For further details on the LIT President's Alumni Fundraising Ball or to book a ticket to the October 11, 2019 event, please contact the LIT Alumni Office on [email protected].