DUBLIN Fringe's annual festival is a hotbed of circus, cabaret, music, comedy, spoken word, even culinary art, with numerous international shows platforming. Last year, 'Oneday' was nominated twice, for Best Production and for Best Performer, actor Shane Connolly.
'Oneday' comes to Limerick's Belltable this Thursday 12 at 8pm for one day only, exploring in a theatrical manner the world's print-media's stories on a particular date, March 13 of 2012. How many stories? About 4 million were published then but writer/ director Richard Walsh whittled the count down to create manageable substance for this thought-provoking play.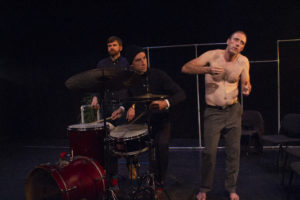 Three people are on stage. Walsh is director/ narrator; Shane Connolly is the performer; Brian Walsh is a  drummer. We look at how the concept of 'Oneday' originated, the exploration of multiple journalistic perspectives on the same international events.
"A little bit of it came about through the Occupy movement, as in Occupy Galway, Occupy Munich, the passive social protest that arose. People didn't know what was going on in the world, crises such as banking and Afghanistan," Richard Walsh explains.  "We trusted in authority. From a political stance we were disempowered by being told that we didn't understand,  for example, the economy and its wonks.
"So what if we took one day to fully understand one day's events and what that means?"
Working together, "we read thousands of articles from March 13 and did a lot of research. The stories were quite heavy hitting, such as Afghanistan, Syria, the economic situation, the bailout of Spain and PIGS. We did a deep-dive in order to understand the bailout."
The news articles are treated as play scripts, and early in the game, stories from the Limerick Post and Limerick Leader concerning 2012 are used to orient the audience.
"'Oneday' the play is like the journey to coming to terms with the news and the vast amount of information that is issued, 4 million print-media articles alone."
Essentially, the challenge posed to us, the fourth wall, is "if knowledge is power, then why do we now, with more access than ever before to information, feel less in control?"
The role of media – the fourth estate – and what and who are the power brokers of nations and the dissemination of information/ misinformation is explored playfully, "examining our unravelling and chaotic relationship with the news."