TOM Creed is quite a noise in the international world of theatre and opera. The young Irish man has a gilded history working with top companies, from The Abbey to European opera houses to his autumnal fixture with Irish National Opera.
Creed spent recent years being the artist in residence at the prestigious Centre Culturel Irelandais. When Limerick Post tagged him, the director was upbeat about returning there for a couple of months in winter to finish out his remit.
Sign up for the weekly Limerick Post newsletter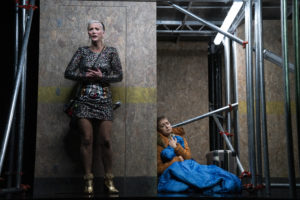 The current joy is working on a feisty Vivaldi opera 'Griselda' for Irish National Opera, with which he brought Britten's divisive 'Owen Wingrave' to Lime Tree Theatre. For that occasion, the company partnered with regular collaborator, the Irish Chamber Orchestra.
Set a date for Thursday October 24 in Lime Tree for 'Griselda', in tow with the Irish Baroque Orchestra and Irish Youth Baroque Orchestra under Peter Whelan's gifted direction.
Stepping outside rehearsal in Galway before October 12's premiere in Town Hall, Tom Creed talks about the rare event of a Vivaldi opera staging in this day and age. This is Ireland's first.
Some of the intrigue is how relevant today are the Venetian's themes concerning power play, manipulation, information gathering and that reliable operatic chestnut, an opportunistic alliance.
Looking back on the music scene of 18th century Venice where one-off performances were the norm, "there was not a culture of repertoire. Vivaldi wrote up to 90 operas and a lot of the same music appears in different operas and with different notes.
"As no one really travelled in those days, you could stage an opera in Venice and then in Turin. There being no reviews, this enabled an idea of repetition."
But Vivaldi's sublime work was ultimately not destined for a short shelf life: "It took a while to have Griselda's score discovered. I think this is an extraordinary piece of music theatre – he writes as if the voice were a violin and demands extraordinary notes of the singers."
INO presents one hell of a cast. Griselda/ Katie Bray ("a rising star") is a Cardiff Singer of the World prize winner and "this being baroque opera, there is a counter tenor, Roberto/ Russell Harcourt who is a wonderful singer. Sinead O'Kelly/ Ottone is a mezzo soprano based in Zurich."
Briefly, Griselda is the wife of King Gualtiero (Jorge Navarro Colorado), having married into his family, contrary to her background as shepherdess. Years on, with a rumbling, grumbling public to appease, "Gualtiero decides the solution to the problem is to divorce Griselda and marry someone who is preferable in social class."
Oddly, the marriage has been a love story, "yet he decides to test Griselda."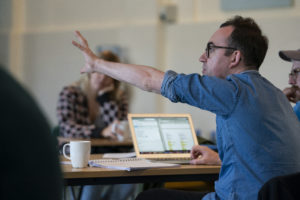 Tom Creed is delighted with the dramatics integral to Gualtiero's folly and makes the point that "this is a familiar story. It's found in Chaucer's stories as 'The Clerk's Tale', it's in the 'Decameron' and other classics."
Political relevance? "Venice was very Catholic, but on the other hand, all this sort of sexual intrigue was going on. Carnival continued for several months but between the locals and the visitors, they were not allowed to interact and there was all this surveillance going on."
An award-winning theatre maestro, Creed heaps praise on his technical crew of Katie Davenport, set and costume designer, with lighting by Sinéad McKenna for a set defined by live camera and CCTV monitors. Jack Phelan is spooking that hypervigilance.
But opera is first a musical platform and "Vivaldi's music is really extraordinary, really demanding for the singers. It is wide ranging and demanding, with this ferocious coloratura. It is challenging physically too."
Thus the score, described by Peter Whelan as "bursting with Italiante primary colours", brings the personal and public politic "thrillingly to life," remarks Creed.
Thursday October 24 only at www.limetreetheatre.ie