ANTONIO Vivaldi was a rebel with a cause. Writing for Italian and Venetian courts where regality, power and Vatican divinity ruled supremely, this sublime composer had a shnakin' regard for the common man – and woman.
His opera 'Griselda' is staged by Irish National Opera and touring; next stop is Dublin's Pavilion for October 26 and 27. Last night it dazzled Lime Tree Theatre with sequins, soaring baroque brilliance and astonishing vocal prowess on the part of its six principals.
Director Tom Creed has opted for a set starker than a hospital's backside, yet the scaffolds allow many doors and shadows for slam/ bang/ damn grand entrances. The set animation is a 12-screen CCTV panel that tells us much about a contemporary Venice governed by surveillance as much as vanity. Sur titles spell out the intrigues and an ab-fab idea of what love is.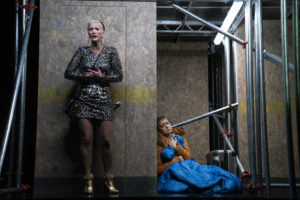 The focus is the high stakes between King Gualtiero (dishy Jorge Navarro Colorado) who is a nob in middle-age crisis and wife Griselda (an emotional Katie Bray), cast out. From the nation's finest, he plucks Costanza (Emma Morwood, reluctant) from lover Roberto (Russell Harcourt with that rarest voice in this age, counter tenor).
The crown's security Ottone (Sinead O'Kelly, amazing voice and comedienne) and Corrado (Raphaela Mangan, mezzo-soprano, vigilant) function as chattering monkeys with their own sub-plot to scratch.
In pleasing contrast to the visual aridity, the Irish Baroque Orchestra drives the pace stage-front, amber lit and old world, tracking the emotional violence with sweet harpischord, lute, horns, brass and violas.
The musicianship under Peter Whelan and the singing are absolutely stunning, layers of scales, melodies and harmonies sung with confidence and at length (nigh on 3hr). The singers are actors too, with the foil-clad Gualtiero having the most thankless part by far, handcuffed by folly for all his liberty to pardon.
Given the lack of wars, chariots and courtly dances, it is the action between lovers and would-bes that spins the action and the thrills of this soap opera. Vivaldi really had it. And there is no ignoring those million-dollar sequins.
Set and costumes: Katie Davenport; video – Jack Phelan; lighting – Sinead McKenna; keyboard technician – Aiden Scanlon.