I HAVE seen 'Tom Crean – Antarctic Explorer' twice over the years and am stung not to make its imminent return. What is the power of this magnetic maritime tale of Irish heroism?
Aidan Dooley is Tom Crean, the Annascaul man awarded the Albert Medal for bravery in serving under Scott and then Shackleton in Antarctic explorations. Aidan Dooley is also this show's producer, director and writer, coming to Lime Tree Theatre this Friday October 25 at 8pm.
Sign up for the weekly Limerick Post newsletter
The entertainment chutzpah to this creation is immense. Internationally 'Tom Crean' has merited five star reviews from  audience and critics for almost two decades.
The award Dooley is proudest of goes back a dozen years to Edinburgh Fringe First Festival 2006.
"Edinburgh stages 2,500 productions over three weeks," he tells Arts Page, "and when I won that award, it changed the show. It went up to a whole different level."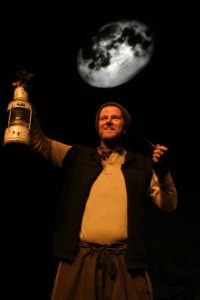 For the unapprenticed, Dooley covers the stage on board ships Catalpa and Endurance and on icy terrain, climbing masts, hauling fallen men and heavy sleds in a riveting spectacle with storytelling.
Of Crean's famous expeditions, Discovery (1901-1904), Terra Nova (1910-1913), Endurance (1914-1916), which meant most to the Kerryman?
"I think the second one, the Terra Nova. He saved the lives of those men, saved two lives – the lads who were left behind in the tent [illness had weakened them]. That was Tom's most altruistic act in his three expeditions. I feel that was his most self-less act and yes, perilous, walking 40 miles to the hut for help. It was at huge risk to himself.
"This is why I dwell so long on it in the show. My hope is that the first half really deals with it, to explore Tom's inner strength and altruism.
"We look at his endurance in the second half, building on that through the story which is that of a survivor."
Heroics and danger apart, expect to laugh. Black, demonic craic rivets Crean's adventures.
Aidan Dooley runs with it. "First of all, I am never doing an impersonation of Tom Crean. What you get is my personality, my physicality." He talks about "creating stories in front of people, using every ounce of my ability to hold their attention."
He is articulate about humour as a device to deepen our empathy of the men's hellish portal to years of fractured, challenged trips accomplished on skinny means.
"You'd always find a funny comment in the darkness. If you can make them laugh, you can make them cry. If you can bring the audience up, you can bring them to the equivalent on the other side.
"There was always a dark humour in all of those men. Their diaries are peppered with comments on the ridiculously dangerous position they were in."
Technically, the sound and light show required to plot the course of sailing Drake's Passage and the Weddell Sea in blizzard conditions and covering the unidentifiable land mass, is outstanding.
Through the urgency and the madness, we live and breathe Tom Crean's relentless risks, the rise and crash of 40 footwaves, his commitment to the mission and to his fellow man. Booking on www.limetreetheatre.ie