COSTUMED in turn of the (19th) century outfits, the Potts family and Truly Scrumptious/ Kim Burke burst into the legendary tune of 'Chitty Chitty Bang Bang'. The occasion was the media launch to Cecilian Musical Society's centenary production, for which South's Bar was home.
Cecilians' Suzanne Hickey was host for this sparkly introduction to cast, stage dates, the bad Baron (Brian Henry), Child Catcher (James Malone) and big intentions.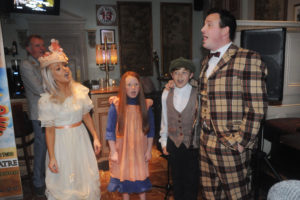 Going for gold is important, as Mayor Michael Sheahan made the point, "Last year's 'The Producers' was a sold-out show and was nominated for four AIMS awards, winning Best Chorus and coming 2nd Overall Show.
The show will roll out at Lime Tree Theatre for November 26-30, centred on the immortal flying racing-machine that is Chitty.
"I hope 'Chitty Chitty Bang Bang' will be easily as successful and it is in the Lime Tree Theatre for a total of seven shows. All of your members play a crucial role."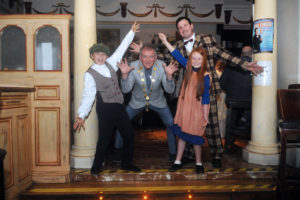 Society chairman Glenn Carr had a word with Limerick Post on expectations. "Staging this, we'll be pushing €65,000. A considerable part of that is getting the correct car. And so we did, hiring it in from London. It is an electric drive with hydraulic lifts that will help it tilt and turn – look forward to the smoke and mirrors.
"We are going all out for professional support. We are hiring Mattie Moran for lighting, Dermot Quin for the design and construction of the set, and Star Systems for sound."
Still, focus is on the cast of 55 on stage and 25 children, as well as a village of volunteers and techies to make this high-flying (ha) show really soar.
The lovely Kim Burke landed the part of Truly Scrumptious. Looking the part – in her bonnet with ribbons on it – she promised a Truly of spice and sugar. "She is this idealistic woman, prim and proper, a beautiful blonde. I'd like to give her a bit of sass, make sure there is a little bit more to her for Caractacus Potts to fall in love with – not this wet tissue."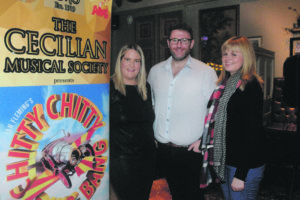 Kim herself is a natural comedienne without vanity. Unrecognisable under wimpole and robe for 'Sister Act', she hobbled around on a cane as a mischief-making nun and rocked out big numbers.
"Well, I do love comedy and Truly has a few funny lines. I need to delve into them and find her."
There is quite a challenge musically, with Ms Scrumptious soaring up there with violins, while "I am a mezzo soprano and sit with the altos for auditions.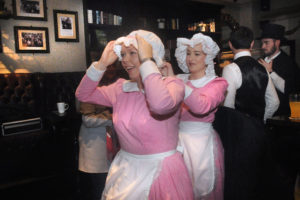 "But she has a light, airy, high tone soprano, very much so, and singing a number such as 'Doll in a Music Box' leaves me exposed."
No fear of this acting wonder who was Dorothy in 'The Wiz' and Mary Magdalene in 'Jesus Christ Superstar'. She thanks her director Des Henn for being open and positive in shaping this role and indeed, others with her.
Kim is playing opposite hunky Jason Ronan as the goodhearted inventor, widower Caractacus.
Booking for www.LimeTreeTheatre.ie  November 26 into Saturday 30.