COSTING "north of €40,000", Limerick Musical Society threw all it got at 'Sister Act', this year's love at University Concert Hall. Talking to Limerick Post after an ecstatic opening night, chairperson Emma Moore (nuns' chorus) knew they had a hit show on their wimples as "the audience feedback was fantastic. Sister Act was really, really well received!"
UCH's box office confirmed to Limerick Post that March 22 and 23 nights were house-full, to the point that disappointed couples loitered in the foyer, hopeful of a neglected ticket. God love them because ooooooooooooh! what a night. Who would have that this flotilla of Sisters could be so inspirational? Getting down to the beat to Georgio Moroder helps.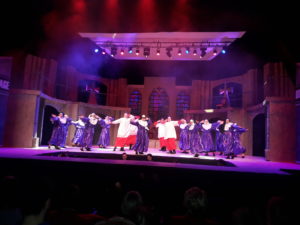 With a plot thicker than the hoods surrounding gansta Curtis'/ Jason Ronan, nightclub chantoose Deloris Van Cartier/ Alison Kearney is told to get herself to the nunnery by cop Sweaty Eddie/ Barray Danagher, having witnessed a kill.
Mother Superior/ Hilary Phayer lives piously to her rank and wants the sexy upstart out but the go-ahead Msngr Mulcahy/ Brian Henry is a diplomatic backing track to the pyrotechnics that Deloris/ Sr Mary Clarence brings to the most excruciating choir known to God.
The rest is a miracle, including the Monsignor's transformation to downtown King of Soul(s).
Special mentions: Alison Kearney is a charming, charismatic and commanding fugitive from the mob, and those boyz together are razzle-dazzle beauty on the dancefloor. Individually, they are gorgeous, winning singers who bring any amount of mischief to the chase: Patrick Woulfe, Adam Skeffington, James Malone and Glen Carr.
As with these bottom-feeders, the enormous shoal of nuns sparkle in their singularity of performance in this slow choppy swell to the courthouse. Kate McBrearty/ St Mary Patrick the first the apple-cheeked convert to gospel and the Sisters' personal stories begin to bubble up.
Special marks to Tom Lynch for set construction that unfolded to contrasting scenes with the aid of collared priests; Des Henn for directorial vigour; Amanda Kearns as choreographer and Elaine Davern, musical director. Both women are in their first months with LMS as hired guns. As ever, Jacinta Florish excelled discreetly with layers of costooms being just one tier in duties as  production manager.
Limerick Musical Society's nine-piece band played on in various genres, right at the heart of action within a stage well and the visual interest contrasted with uniformed choral numbers. And what a beautiful heart this 'Sister Act' has.
Review: by Rose Rushe