Much Ado About Nothing
Rough Magic stages 'Much Ado About Nothing' in Limerick this Friday night, hauling it into the 21st century: "On the deck of a deluxe mobile home, a group of friends gather for a week long party full of cocktail-infused debauchery, bad dancing and questionable gender politics."
As the celebrations continue in the play, two couples emerge. Claudio and Hero fall deeply and madly in love, while Benedick and Beatrice resume their altogether more quarrelsome romance.
'Much Ado About Nothing' charts the course of these  star-crossed courtships as malicious rumour and pointed lies "threaten to tear them both apart."
There's a meaty cast of Clare Barrett / Venetia Bowe / Peter Corboy / Maeve Fitzgerald / Patrick Martins / Margaret McAuliffe / Jack Mullarkey / Shane O'Regan / Conor O'Riordan and the director is  Ronan Phelan.
Friday 22 only, at 8pm at Lime Tree Theatre.
___________________________________
Three Muses, three museums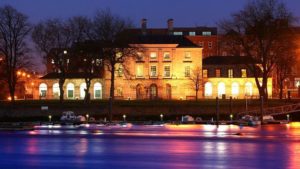 LAUNCHED on November 22 in The Hunt Museum, 'Three Muses: exploring art and identity' brings three Limerick museums together "to inspire primary school pupils and explore visual art".
The stakeholders are The Hunt Museum, Limerick City Gallery of Art and Limerick Museum.
We are told that "pupils will discover the three collections through workshops and activities, developing their confidence and understanding in visual art, while exploring the theme of identity across the collections.
"The programme also includes one-off events such as children-led tours of the collections, training sessions for teachers and a summer showcase."
More anon for the January to June 2020 schedule.
________________________________________
People in my Brain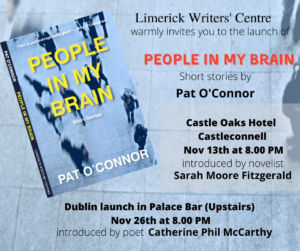 AWARD winning Limerick writer Pat O'Connor released his debut book of short stories 'People In My Brain' in Castle Oaks House Hotel last week. Pat is well known on the reading circuit and this collection will be welcomed by his many fans.
"These provocative stories are by turns absolutely hilarious and utterly chilling, offering an alternative view of our familiar world. It's a book that pokes you in the ribs while you are being entertained, but leaves you with a sense of optimism."
'People In My Brain' is published by Limerick Writers' Centre, and is available in O'Mahony's Booksellers and Quay Books.