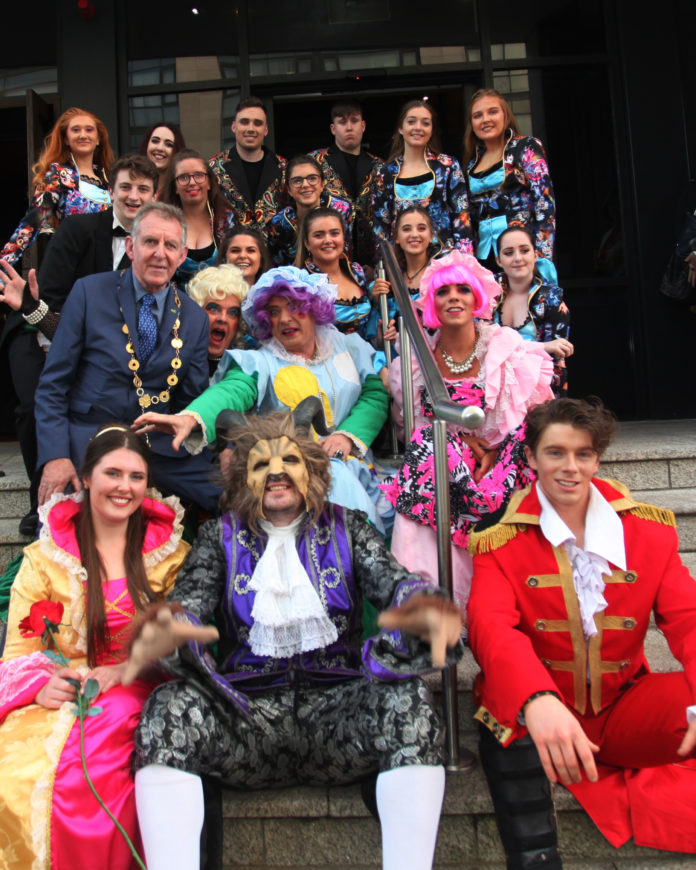 CHRISTMAS Day comes. Christmas Day goes.
What's left? A blurry New Year and awesome stretch of cold dark days into St Patrick's Festival?
Limerick Panto Society (LPS) is to our rescue with any amount of sparkle arranged for 14 performances of 'Beauty and the Beast'. Panto opens at Lime Tree Theatre on December 27, www.limetreetheatre.ie
 Director Tony Cusack talks to Arts Page about focusing on "freshness" to spin the classic of 'Beauty and the Beast' into new heights. Tony has his work cut out but there is no fear of him managing the  hundreds involved in staging this sweet show in which love conquers all.
What are his priorities?
"First of all, bear in mind that we are an amateur organisation in the purest sense of the word. Sure, we employ the band and sometimes a star but the important thing for me is that we have a huge number of people working on this panto. What I want is that they enjoy the experience and that the audience enjoys it."
He is delighted to contract Mike Hinchy leading a live band of seven, including a brass section – "few shows have a live band going for them."
Several Cusacks work tirelessly on the show each year, enhancing the family-oriented scene. "Between sound, music, the set, choreography, lighting and cast, we have about 200 people in all involved. There are three stage schools – Spotlight, Expressive Arts and GemStars – so that's about 150 children in all. On a rotational basis, each school does five shows.
"We have another 50 people in our Limerick Panto Chorus, aged from 16 up."
Of the many principal players, veteran Tim Cusack plays Dame Madame  Librarian, Tadhg Flynn is the Butler, Saorla Fenton is the Maid and "Stuart Mackey plays Greg Loveeee, an Omar Sharif type who is rival to the Beast/ Prince, so he has to be a pain. He is chasing Belle and Stuart is giving his lines a Shakespearean twist." Big smile.
"Belle is Natasha Coughlan who has been with us a number of years. She is a fabulous singer, a schoolteacher in Ennis who plays the harp and is a multi-instrumentalist. She has won various awards and we are lucky to have her.
"We have to be careful that there is freshness to the show so we do a 'Beauty and the Beast' classic number 'Be Our Guest' but integrate modern music into the traditional score. Look forward to 'Triple Light Fantastic' from the new Mary Poppins and a song from 'Sing' that  is the Elton John number, 'I'm Still Standing'.
"Opening Act 2 we have 'Time Warp'  from 'The Rocky Horror Show' and our finale is a mish-mash of music by Lady Gaga and Pink."
Now, that is going to rock the house, as will elaborate costumes from Pat McGann. The script is a John Finn (RIP) original updated by Tim and Tony, while stage and production values are driven by Damien O'Brien and Malachy Cusack.
"We are putting some money into projectors so that as well as having a solid set and castle, we can use animations and projections to set the scenes alight."
Furthermore, Limerick Panto Society introduces a sensory friendly show for a specific date, Monday December 30 at 4pm.