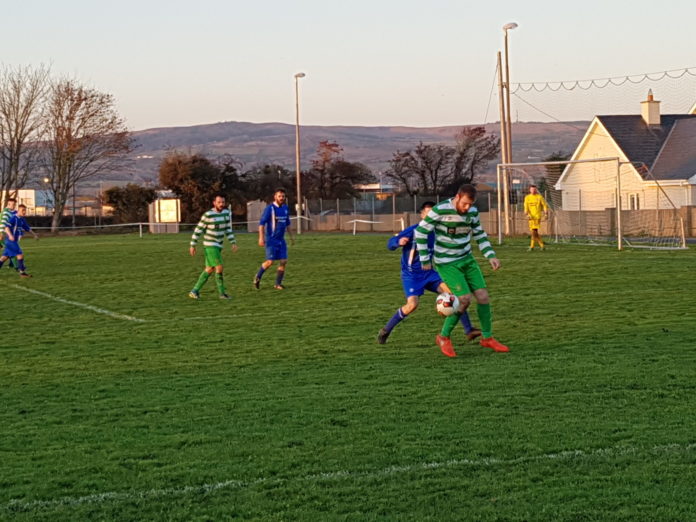 Coonagh United reached the last 32 of the FAI Junior Cup in dramatic fashion following a penalty shoot-out victory over Finglas on Sunday afternoon as the game finished 4-4 AET. Substitute goalkeeper Kieran Simmonds proved the hero with three penalty saves in the shoot-out.
The Dublin outfit started the game at a fast pace and a quick counter-attack almost yielded the opening goal as Thomas Quinn played Ross Buckley in but the striker's looping effort hit the crossbar and went behind for a goal-kick.
Moments later, Buckley beat Sean O'Dwyer to the ball before turning and shooting just wide of Ryan Doonan's post. It was a sloppy beginning for the home side as Zack Hyland's pass was intercepted by Dean Ivory but the winger's effort travelled safely over the crossbar.
Against the run of play, the home side took the lead when Joey Sheehan was fouled inside the area by Karl Murry and top scorer Ger Myles dispatched the spot-kick beyond Christopher Buckley.
In the second half, Myles wasted a great opportunity to double the home side's lead as a searching ball from Seamus Maloney found the striker in space but he blasted high and wide. Shortly afterwards, Myles made up for the squandered chance when he did get his second goal with a looping shot over the helpless Buckley.
At this juncture and with ten minutes remaining, it looked as though John Spillane's men were heading for a routine passage to the last 32. However, Finglas were awarded a penalty when Luke Doherty fouled Luke Massey and Daragh Brennan converted.
Amazingly, the away side equalised when Doonan parried a shot from Brennan and Quinn was on hand to tap home and send the game to extra-time. At the beginning of extra-time, Finglas left-back Jordan Kavanagh was given his marching orders for a foul on Billy Connors and a second yellow card.
Despite being reduced to ten men, another strong run from Massey on the by-line resulted in a foul borne from panic by substitute Ian Considine and John McNamara wasted no time in awarding the third penalty of the game. Brennan duly converted once more to give Finglas the lead for the first time.
Considine attoned for his error when he was on the end of an Andrew Leydon cross which wasn't dealt with sufficiently by Buckley. In the second period of extra-time, it looked as though Coonagh had avoided a penalty shoot-out when substitute Eddie Radcliffe headed home from a Ger Myles cross from the right.
John Spillane's team were intent on making it as difficult as possible as Myles surrendered possession in the middle of the park and Doonan was forced to take down a Finglas player in the box and unbelievably Brennan was afforded the opportunity to score a hattrick of penalties which he didn't pass up as he buried past the substitute goalkeeper Kieran Simmonds, who was brought on for the possible penalty shoot-out.
In a dramatic penalty shoot-out, it went all the way to sudden death and at one point it looked as though players would be asked to take a second penalty. However, Simmonds re-paid the decision to introduce him for the spot-kicks as he made three saves and the Coonagh side celebrated joyously at the final whistle. Christopher Buckley also made two superb saves for Finglas but the Limerick side were 6-5 victors.
Coonagh United: Ryan Doonan (Kieran Simmonds, Seamus Maloney (Luke Doherty), Sean O'Dwyer, Joey Sheehan, Zack Hyland (Ian Considine), Andrew Leydon, Will Brick, Gordon McKevitt (Billy Connors), Eoghan O'Neill, Liam Morris (Eddie Radcliffe), Ger Myles
Finglas: Christopher Buckley, Jordan Kavanagh, Karl Murry, Liam Tieran, Troy Owens, Sean Murry, Cian Malone, Thomas Quinn, Ross Buckley, Darragh Brennan, Dean Ivory
Substitutes used: Craig Forster, Luke Massey, Dale Parkes, Jordan Wright, Thomas Keogh
The post Coonagh earn dramatic FAI Junior Cup victory appeared first on Sporting Limerick.