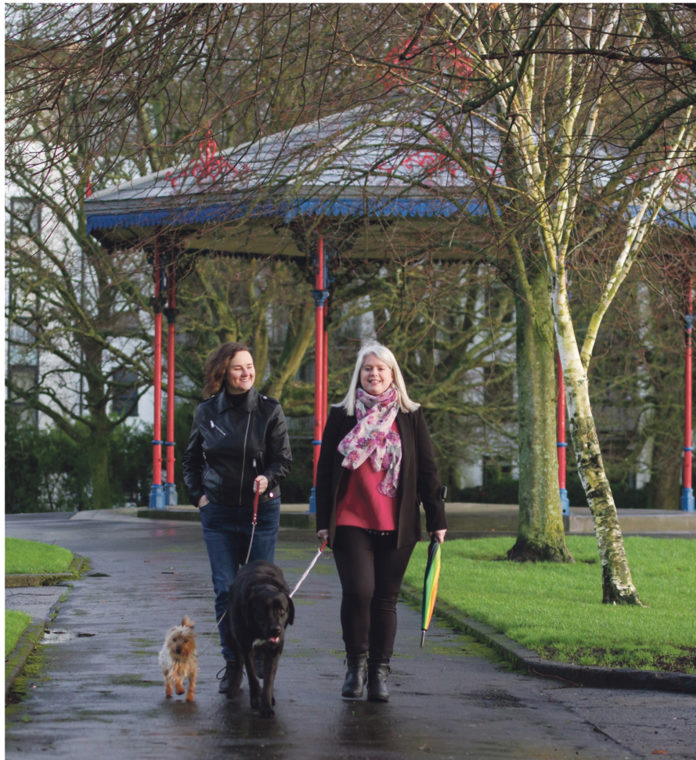 POLITICS can be a dog eat dog world at the best of times.
But when man's best friend strayed on to the General Election stage this week, it had all the appearance of the tale wagging the dog
Sign up for the weekly Limerick Post newsletter
Last Friday Taoiseach Leo Varadkar was confronted by Limerick animal rights activist John Carmody while campaigning in Dublin City Centre.
The outspoken campaigner was joined on his protest by rescued greyhound Oisín as he held a giant love heart that read, 'Love Us – Don't Race Us'.
Carmody took the view that Varadkar or any incoming Taoiseach should speak out against hare coursing, fox hunting, puppy farms and greyhound racing.
"Or, at the very least, axe government subsidies to the greyhound racing industry and direct the much-needed money to homeless and health," he declared.
Mr Carmody then urged Mr Varadkar to meet Oisín face to face, prompting him to get on his knees and stroke the gentle, rescued dog. The Limerick man also claimed that the plight of animals has long been overlooked by political parties.
"Times are changing, public opinion is swaying in their favour, and we now need to seat fighters in Dáil Éireann who'll progress and advance further legislation to stamp out some of the most egregious abuses facing animals today," he insisted.
Back in Limerick, Social Democrats General Election hopeful Jenny Blake had heard Carmody's call and taken up the charge for animal rights.
"Heartbreaking" was the word she used to describe figures showing 550 dogs have been euthanised and 2,390 seized in Limerick over the last five years.
"People will be shocked by these numbers – I certainly am," she declared.
The UL Student Support Coordinator, who owns two dogs with her wife Ann, pointed out that Limerick is full of dog lovers. She also believes animal welfare is an important issue for people in the city.
"Dogs are a part of so many families, including my own, that it's really distressing to think of thousands being discarded they way they are."
She went onto describe factory farming as a horrible practice that subjects animals to pain and suffering.
"Animals that are not bought or don't quite 'look the part' are often abandoned and left to fend for themselves, having spent their lives living in awful conditions and being treated horribly."
The Social Democrats candidate for Limerick City also says the practice of factory farming has become more prevalent in recent years and believes measures must be taken to clamp down on it.
"The people responsible for such operations should be punished much more severely and more resources must be allocated to the enforcement of all animal welfare laws," she opined.
Sadly, in other local canine news, Sinn Féin TD for Limerick City Maurice Quinlivan this week lost his beloved pet dog 'Hoopy'.
"The best doggie I've ever had. You nearly made it 16 years," Deputy Quinlivan posted on Facebook this week.
"Rest in peace in Doggie Heaven. Me and Sue are truly gutted," he added.