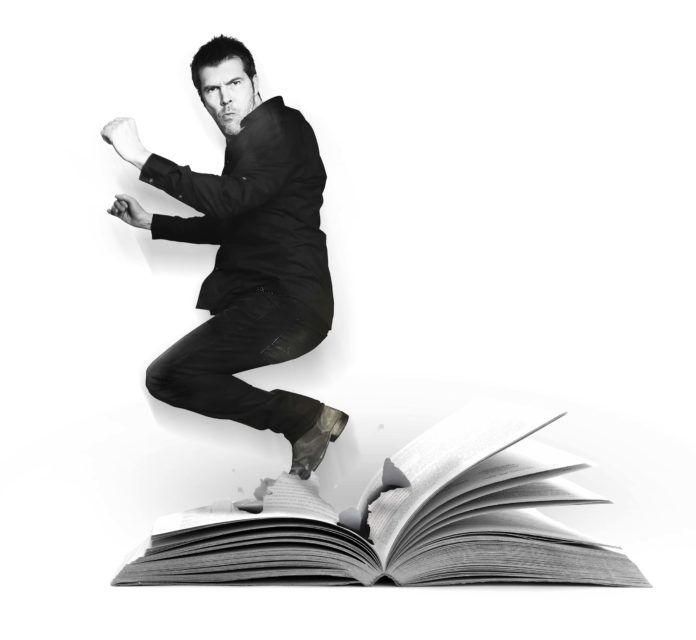 WELSH comedian and presenter Rhod Gilbert is bringing the last leg of his eagerly awaited comeback tour to University Concert Hall for one night only on Sunday March 15.
The new show called 'The Book Of John' has got rave reviews – The Times called it "Gilbert's most satisfying show for a decade," and The Telegraph described it as "Hilarious tour-de-force."
The entire first leg sold out in the UK with extra dates added including a ten night run at the Edinburgh festival.
Sign up for the weekly Limerick Post newsletter
The presenter, known to many for hit shows 'The Apprentice You're Fired', 'QI', 'Would I Lie To You' and 'Never Mind The Buzzcocks', is back doing stand up after a seven year break.
Chatting to Limerick Post, the comedian didn't give up on touring, he just ran out of material!
"I hadn't done a gig for years, not since 2012. I hadn't intended to retire.
"I finished that tour, I didn't have anything to say, I didn't write anything.
"So I didn't do any gigs!"
A lot has happened to Rhod during his hiatus. Almost all of it sh*te. And just when he thought he'd hit rock bottom, he met a bloke…called John.
Speaking about the inspiration for his return, Rhod says, "I thought things were rock bottom but then I met John. Having said that, the only reason I'm back doing stand up is because of John, I would not be doing stand up again if it wasn't for him."
He goes on to say of John: "He is my muse, my inspiration, he's a godsend."
For the first time in his career, this show sees Rhod talk about very personal issues that have happened in recent years: he had a stroke, his struggles with infertility, and the death of his mother.
Chatting to Limerick Post about 'The Book Of John':
"I have never done this before. I have done stand up for 10 years and just ranted about duvets or losing my luggage. It wasn't personal but for this show, its big subject is really personal."
Rhod's health is pretty good today. He has made changes to his lifestyle since he had a stroke.
"Yeah, I am waiting for another stroke!" Laughs.
"I'm being facetious really!"
'The Book of John' is also very funny as Rhod deals with the big issues while telling his audience about the driver he employed when he could no longer drive.
A result of this health scare meant that for a while, Rhod needed a driver to bring him to work and that is when John came into his world.
"This John bloke was driving me because I couldn't drive. He started coming out with all sorts of sh*t so I thought there is a show in this. I started writing again.
"He is also the vehicle I needed, no pun intended, that allows me to talk about things like Alzheimer's, stroke, and loss."
It's unavoidable, I suggest, that the subject matter at the heart of Rhod's show is quite personal and quite sad stuff, in a way?
"The key is to make it funny. There isn't a moment in this show where I am getting self-indulgent. I am here to make you laugh about the fact that I had a stroke, about the fact that we can't have kids!"
"Every time I go to the book [of John], the audience knows there is going to be 'John sh*t' – it's going to be funny, don't worry!" Laughs.
Rhod has performed 'The Book of John' over 100 times now and the reviews are very positive. He is enjoying the reaction he is getting to this show – it is very different from any other comedy he has done.
"What I am enjoying is the different reaction I am getting. In the past people would come up to me and say 'I think you are funny' or 'I don't think you are funny'."
"Now they tend to be talking about their experiences."
Among the many TV panel shows and radio presenting, Rhod has dealt with more serious issues affecting him personally.
He made a BBC documentary on social anxiety and another documentary on male fertility is coming.
Rhod suffers from social anxiety. A part of his show refers to a moment when he was at a low point and in mourning while on a train journey and he was harassed by a group of lads looking to take selfies with the comedian.
Making an honest documentary about the subject has been a cathartic experience. It seems somewhat ironic that someone with social anxiety would make show business a career choice that brings getting recognised in public as part of the package.
Getting the documentary made really helped the comedian to discuss his social anxiety.
"A lot of people recognise that we are all contradictory and nuanced. We can be really confident in some ways and lack confidence in other areas."
Raw, personal and brutally honest, Rhod Gilbert will play University Concert Hall on Sunday March 15.