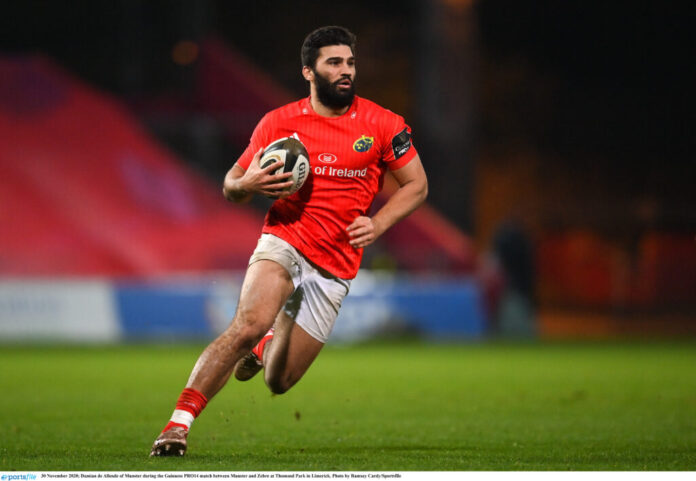 DAMIAN De Allende's performances for Munster to date have suggested that the World Cup winning Springbok has settled into life at the province quickly.
When speaking to the media today the 29 year-old did nonetheless admit to being surprised by some aspects of the Munster camp when he first arrived.
Sign up for the weekly Limerick Post newsletter
The intensity of the training week leading up to his debut was not something he had been expecting.
"I felt when we played Leinster in my very first game in August it was quite a hyped up week. I'm not one to get hyped up that much before a game and that was quite a real shock to me.
"I think the way we have been going forward now – you need to enjoy yourself. I know the Leinster game is massive but if we can get into the mindset of 'it's just another game – it's another game to get better and do what we want to achieve' [then we will have a good chance".
"What won't benefit us this weekend is if we make the occasion too big and forget how to play rugby and forgot what we are trying to achieve."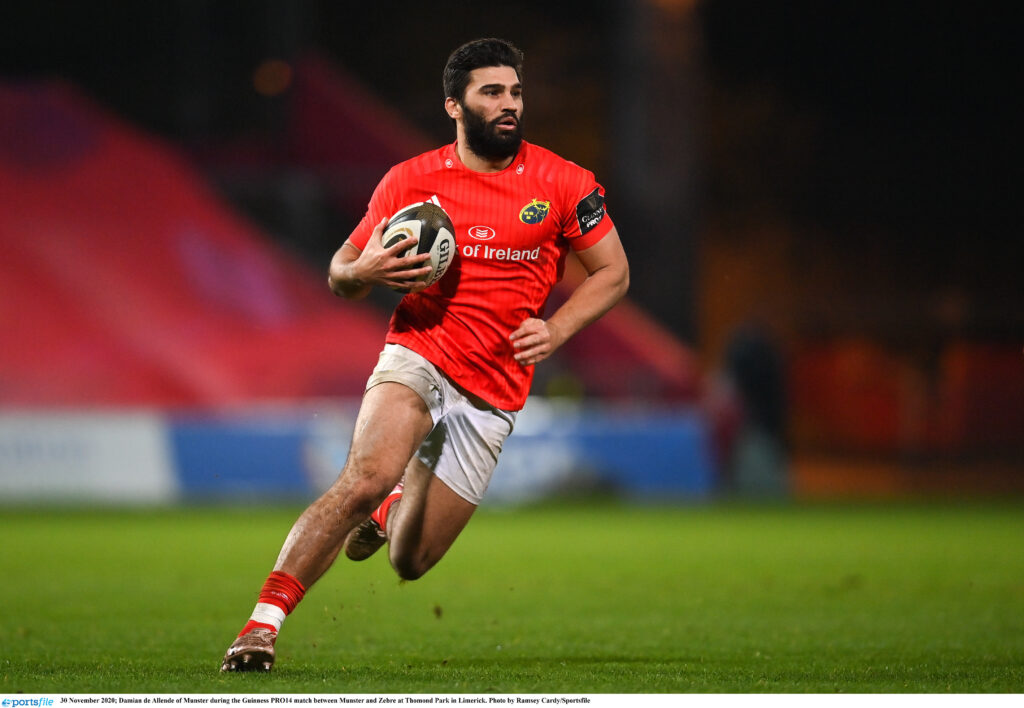 For a warrior on the field, De Allende has a clear preference to remain focused and keep sight of objectives rather than allowing emotion to take over. The centre is fully aware of the size of the prospect ahead and was thoughtful when speaking about how important experiences like the victory away to Clermont have been for the growth of this group.
"I think that Clermont game was quite a shock. It was my second game in the European Cup. I think the way they started the game – I got a bit of a fright. It reminded me of playing Super Rugby against the Crusaders at Christchurch and they just get off with a firing start and you look at the board and you're thirty points behind and then it's really tough.
"I think this is going to be a another test – obviously its a different ball game to what Clermont bring but i still think intensity will be the same and the physicality will still be the same. It's very close to test match level.
"Obviously Clermont have been one of the best teams in Europe over the past few years – they are a world class outfit and so are Leinster. If we want to be the best we have to beat the best and Leinster at the moment are the best, especially in this competition so we're really looking forward to the challenge.
"As I said earlier, its very important for us to stick to our processes and do what we've been doing well and when the opportunity comes we have to take it with both hands and hopefully we can put them under pressure on Saturday."
The development and leadership of the Munster youth prospects throughout the season has impressed many supporters this campaign and De Allende is equally enthused by the progress.
Since last season's defeat to Leinster the mood around Thomond Park has picked up significantly and the Springbok is keen to see a full squad effort from his teammates this weekend to give fans another victory to smile about.
"I think the way the younger guys have grown up and taken ownership of their roles and their positions has been quite outstanding. Obviously we had a few hiccups along they way with injuries and Covid and stuff like that, and even with that, youngsters still managed to pull off some amazing wins and that's quite incredible.
"Once you get that right in your squad, seeing youngsters putting up their hand and putting pressure on the more experienced guys – that's when you really get the best out of eachother. We have been doing that quite well so we'll kick on with that and continue working hard and enjoying ourselves like we have over the last few weeks."
The post De Allende Encouraged By Munster's Progress Since Last Leinster Encounter appeared first on Sporting Limerick.