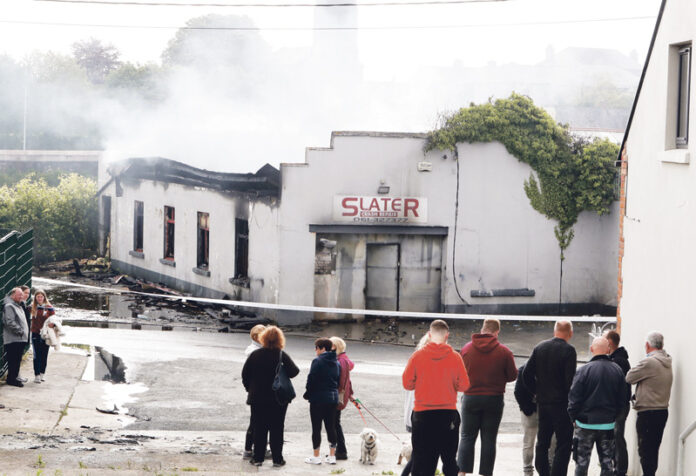 ALMOST €13,500 has been raised to help a Limerick mechanic whose family business was burnt to the ground in an alleged arson attack last week.
Slater's Garage, which had traded as an auto-repairs premises for the past half century at Old Thomondgate in Limerick City, was destroyed by fire last Friday morning.
Garage owner James Slater said he was "devastated and so upset" after he surveyed the damage.
Sign up for the weekly Limerick Post newsletter
"I don't even know if I'm coming or going. We are here fifty years easily. My dad Jimmy Slater ran it before me. Now it's just myself and my brother and we have two or three lads here," Mr Slater told the Limerick Post.
A man appeared before a special sitting of Ennis District Court last Saturday night, charged in connection with the alleged arson which destroyed the premises and number of cars.
Local Sinn Féin councillor John Costelloe said: "It's a very sad occasion here in Old Thomondgate. People are very upset. They are walking around in bewilderment.
"I feel for James, he's the most obliging man, if you were to pull in here in your car, he'd do anything for you. He works so hard and his family are so well liked here, helping people in the community."
His workmanship is first class. It's a really sad time for James, but being the man he is, he will bounce back again."
"Thankfully no one was hurt, and I know the Gardaí will carry out a full investigation into why this happened."
Independent councillor Frankie Daly said the incident was one of the saddest days for the community in Thomondgate, where James is a very loved and respected businessman.
"It's a very sad day for a really decent genuine working man in our community. It's shocking," he said.
An online fundraiser set up last Saturday with a goal of raising €3,000 has well surpassed this, with funds reaching almost €13,000 by Wednesday.
"It is a sad day in the community. Most of Limerick will know James Slater and the work he has done for people and the people he has helped over the years. On May 14 his business was taken away from him so as a community I feel it would be nice for us to repay a hard working man like James," appeal organiser James Ward explained.
"It would be a kind gesture to try and get the man back his livelihood," he added.
Donations can be made via https://gofund.me/b35d8252