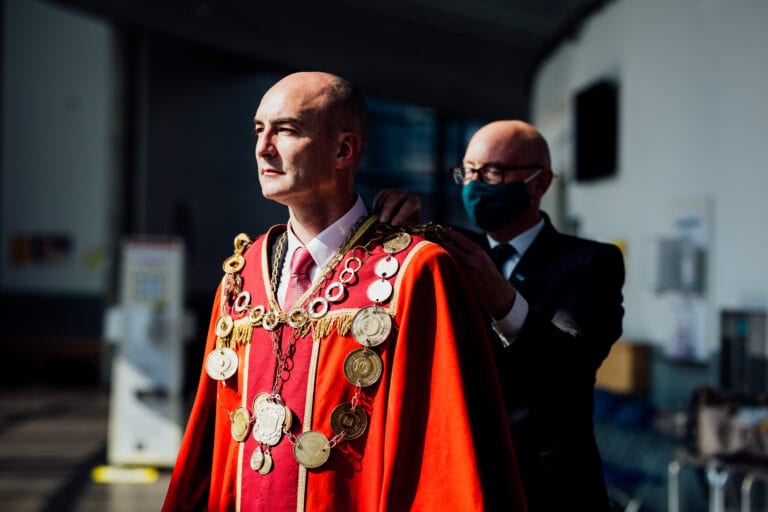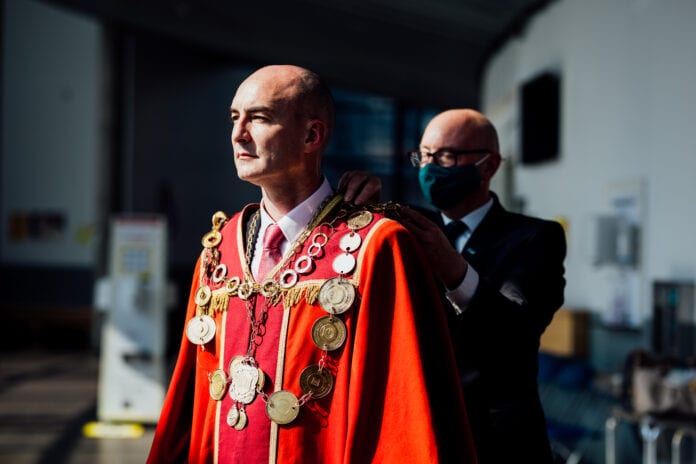 FINE Gael Cllr Daniel Butler has been elected as the new Mayor of the City and County of Limerick.
The meeting of Limerick City and County Council took place in LIT's Millennium Theatre in order to comply with COVID-19 guidelines set down by the government.
The Raheen-based councillor was elected unanimously by the 40 members of the Council after he was proposed and seconded by his party colleagues John Sheahan and Dan McSweeney, respectively.
Speaking following his election Mayor Daniel Butler said: "Often the focus of a new Mayor is to talk about economic, educational or environmental plans for Limerick and I will focus on those.
But I want to firstly speak about who I have been elected to represent – the citizens of Limerick and their value, their culture, their stories and in these times their wellbeing.
"As we emerge from COVID my commitment is to listen, have empathy and to open my mind to new experiences. Everyone may not agree with me, but I hope they will be able to understand and accept the reasoning behind my decisions."
"I am open to constructive dialogue and I want to be a Mayor for ALL of the people of Limerick not just the ones who speak loudest."
"The message to every citizen especially those who are struggling is that I see you, I value you for who you are, you are important to me and to Limerick and that I hold you central to today's event. We cannot be US without yoU."
"I want to put first and central the citizens of Limerick and I am hugely honoured to be your Mayor."
Mayor Daniel Butler was first co-opted on to then Limerick County Council in 2014 following the death of his father Richard, who had been Cathaoirleach of Limerick County Council in 2010-11. He ran for election in June of that year, retaining his seat, something which he has continued to do in subsequent elections.
The election of Cllr Butler as Mayor of the City and County of Limerick may be the last election of Mayor by elected representatives.
The legislation to allow for a Directly Elected Mayor for Limerick is currently going through the Oireachtas, while on a recent visit to Limerick, the Minister with responsibility for Local Government, Peter Burke indicated the election will be held in 2022.
Fine Gael also took the position of Deputy Mayor, with Cllr Tom Ruddle being elected.
The election of the Mayor of the City and County of Limerick brings to an end the series of annual meetings in Limerick.
Those elected are:
Limerick
Mayor: Cllr Daniel Butler (FG)

Deputy Mayor Tom Ruddle (FG)

Limerick Metropolitan District
Cathaoirleach: Cllr Catherine Slattery (FF)

Leas-Chathaoirleach: Cllr Kieran O'Hanlon (FF)

Adare-Rathkeale Municipal District
Cathaoirleach: Cllr Kevin Sheahan (FF)

Leas-Chathaoirleach: Cllr Bridie Collins (FF)

Cappamore-Kilmallock Municipal District
Cathaoirleach: Cllr Martin Ryan (FF)

Leas-Chathaoirleach: Cllr Michael Donegan (FF)

Newcastle West Municipal District
Cathaoirleach: Cllr Liam Galvin (FG)

Leas-Chathaoirleach: Cllr John Sheahan (FG)