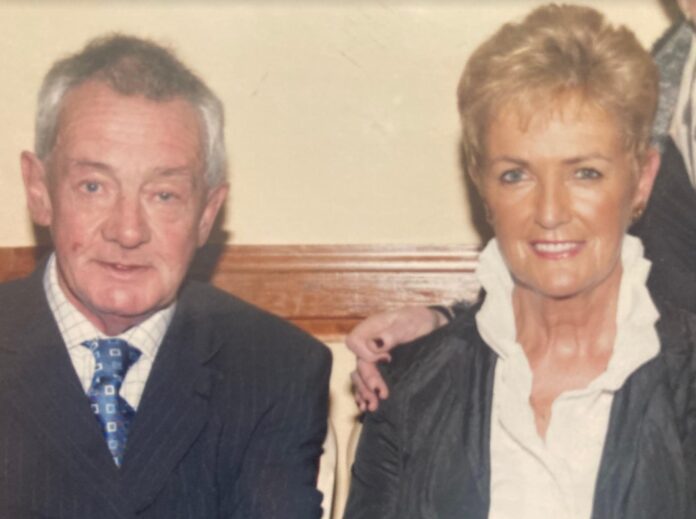 Limerick political colossus Des O'Malley stood up to the IRA, and Limerick Detective Garda Jerry McCabe was murdered by them.
Years after putting himself in harms way to protect the former Minister for Justice and his family who were under threat from the Provisional movement, it was the Limerick detective that was cruelly taken from his own wife and children by murderous thugs portrayed by a Sinn Fein party as some sort of patriots.
O'Malley and McCabe formed close ties when the Special Branch garda and his partner Detective Garda Ben O'Sullivan were assigned as bodyguards to the then Fianna Fáil minister, his wife Pat, and their four children, who then resided in Corbally.
Des O'Malley had played a key role in the Arms Crisis, he had established the non-jury Special Criminal Court – set up to specifically try cases against subversives and later organised crime gangs – and he had introduced the Offences Against the State Act. All were seen as measures aimed at strangling the IRA's activities which made the Limerick politician a target.
"Dessie stood up to the IRA, he was the best man to fight them, Jerry always said. He really was one of the few who spoke out against IRA/Sinn Fein, to me they are all the one, I have the very same opinions of them as Dessie did. Sinn Fein are trying to get rid of the Special Criminal Court and I hope they don't get their way, because if that court hadn't have been established Jerry's killers would have walked free," Ann McCabe, Detective McCabe's widow told this reporter in an interview with The Irish Times.
Several weeks after Des O'Malley, Jerry McCabe and Ben O'Sullivan last met on April 29, 1996 — an occasion where the two brave detectives were helping to protect several high- profile British and Irish politicians at Adare Manor — Jerry McCabe was assassinated and Ben O'Sullivan seriously wounded when a Munster IRA unit ambushed their garda car as it travelled into Adare village, protecting a post office cash van, and fired at least 14 rounds into the unmarked vehicle.
Over the years, Des O'Malley and Ann McCabe shared abhorrence of the IRA galvanised their resolve to ensure the Adare killers stayed in jail after their convictions for manslaughter despite being initially tired for murder, as Sinn Fein sought but ultimately failed to have the killers released early under the terms of the Good Friday Agreement.
Ann McCabe said Des O'Malley's foresight on introducing the special criminal court to tackle dissident groups and crime gangs must be a continuing legacy "there has to be a deterrent, how many more gardai are…they are out working everyday, they don't know what's going to happen from these subversives, because they haven't gone away, they haven't gone away".
"There will never be another Dessie O'Malley, I can tell you, he was the best Minister for Justice, that's what Jerry always said."
"Jerry travelled a bit with Des, and they became close, and we were all invited out to (Des's) house in Corbally. Anybody who did bodyguard duty on his house for him, the door was always open, and there was always sandwiches and tea ready for them when they were on night duty."
Paying tribute to Mr O'Malley, Ms McCabe said: "Jerry was very fond of Des, because he was so straight, an honest man."
Like his other colleagues in Special Branch that protected O'Malley, Detective McCabe would go to any lengths to keep him safe.
Ann McCabe laughed and recalled her husband traveling with O'Malley to location "up the country" when the Minister was still under active threat from the IRA, and "Jerry slept in a damp bed wherever he was sleeping, and he was bed ridden for three or four days when he came back".
In 2006, O'Malley was special guest at the launch of To The Honour of Jerry McCabe, a book about Ann McCabe's courageous fight for justice to keep her husband's killers in jail, written by the late journalist and author Dermot Walsh.
Over the years the bond between both families grew.
"When Des's wife Pat died, I wrote to him and he sent me back a lovely letter, and more recently last month from the nursing home he was in he said he was sorry he couldn't get to Adare for Jerry's 25th anniversary, but sure, the poor man wasn't able to at that stage."
Sinn Fein President Mary Lou McDonald's recent condemnation of the Adare killers – a new departure for the Sinn Fein leadership – "surprised" Ann McCabe, but, she added, "it doesn't mean anything to me" as others in the party refuse to echo McDonald's words.
"She condemned the killers, why doesn't the rest of Sinn Fein condemn them, especially Gerry Adams, he never did. It doesn't mean anything to me," said Ms McCabe.
Future leaders walking in the corridors of political power must continue Des O'Malley's brave stance against darker forces, she offered: "Yes, that would be my view, Dessie is a great loss to our country in opposing against Sinn Fein and speaking out against the IRA, if get what they want, god help us, god help us."