Johnson & Johnson Vision Care Ireland first opened its Limerick base in 1996 with just 60 employees. Now in its 25th year in operation, the Plassey plant has grown into one of the largest contact lens manufacturing facilities in the world, with a workforce of 1,600.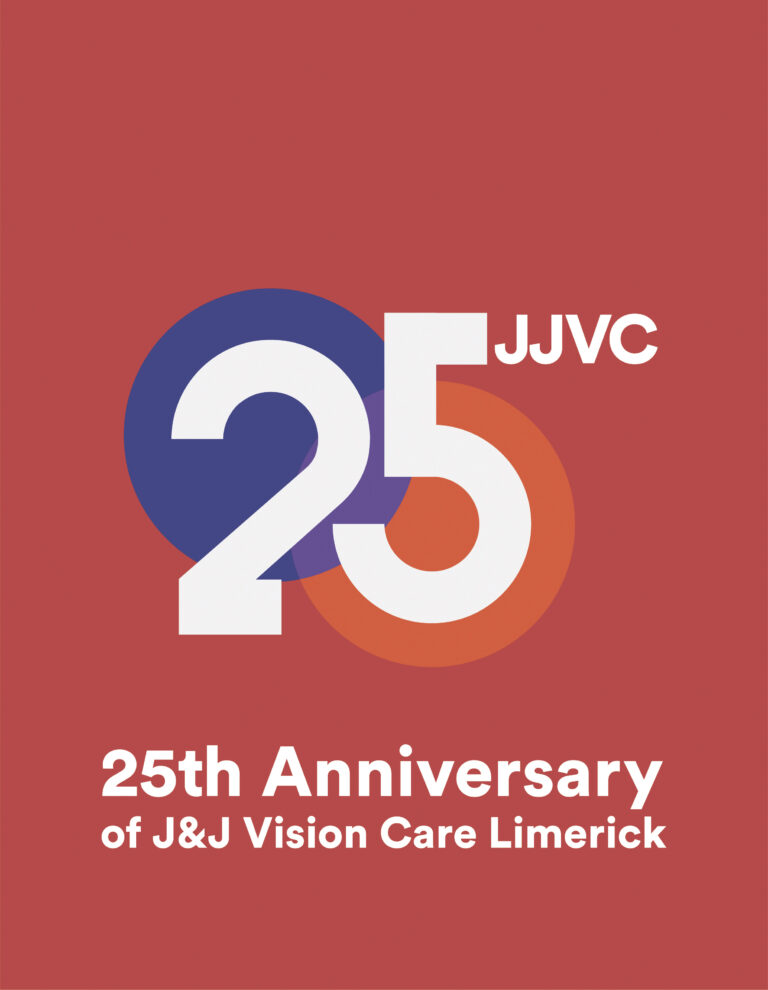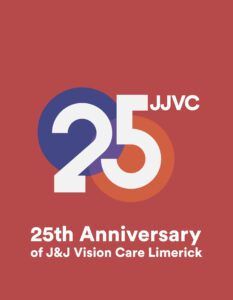 "The manufacturing site in Limerick is one of Johnson & Johnson's (J&J) large-scale manufacturing operations for the contact lens business and plays a fundamental role in supporting J&J's mission to change the trajectory of eye health around the world," revealed John Lynch, Plant Leader at Johnson & Johnson Vision Care Ireland.
"In Limerick, we manufacture strategic products in Johnson & Johnson Vision Care's product portfolio, including the company's fastest growing daily disposable lenses and a range of beauty lenses, largely for the Japan and Asia Pacific markets."
Founded in 1886, Johnson & Johnson is one of the world's largest and most broadly based healthcare companies with more than 130,000 employees around the world. J&J has been operating in Ireland since 1935 and now has a workforce of 5,000 people across ten sites around the country.
"J&J's operations in Ireland touch all aspects of human health, from consumer products to pharmaceuticals, medical devices and vision," Mr Lynch explained.
"Our team in Limerick serves customers and patients outside of the US with our current portfolio of products and is also working to deliver new breakthroughs in contact lens technology for the future," he added.
In addition to contact lens manufacturing, Johnson & Johnson has a number of other teams and functions at its campus in Limerick. The Advanced Technology Centre designs and makes automated manufacturing equipment for new and existing manufacturing processes.
There is also a Software Development Centre, specialising in the development of the company's own supply chain, customer management, digital, data analytics and manufacturing systems.
Limerick's campus also houses its Surgical Vision Supply Chain function, providing products to patients needing cataract or lens replacement surgery and treatment for dry eye and glaucoma.
Mr Lynch continued: "Our aspiration at Johnson & Johnson Vision Care Ireland is to bring improved eyesight to people around the world through the research, development and manufacturing of new medical device technologies."
A focus on career progression through continuous education
Johnson & Johnson Vision Care Ireland has "a strong focus" on career progression through continuous education, revealed Mr Lynch.
"From certificate through to doctorate level programmes, we have supported 300 plus employees in developing skills in new technologies since 2016," he said. The company's graduate and apprenticeship programme sponsors more than 20 trainees every year in Limerick.
"Over the years, we've built strong relationships with the University of Limerick and Limerick Institute of Technology, which has been invaluable," he added.
The Johnson & Johnson Vision Care Ireland team has a strong culture of championing diversity, equity, and inclusion. Recently the team was among the 12 winners at the third annual, company-wide, Johnson & Johnson DEI Honors Ceremony.
Mr Lynch continued: "Johnson & Johnson Vision Care Ireland was awarded a DEI Honor for Building our Diverse Workforce in acknowledgment of our work to build a more diverse and inclusive technician workforce in Ireland. It was an honour to be recognised and the entire organisation is very proud of the achievement.
"Johnson & Johnson is also a known leader for advancing women in science, technology, engineering, maths, manufacturing, and design – what the company calls WISTEM2D careers.
"Now in its fifth year, WISTEM2D is a high-intensity programme reaching over 150 undergraduate women to date at University of Limerick, and more recently, University College Cork.
"Its aim is to expose young women to the endless possibilities of a career in STEM, by providing participants with one-to-one mentorship, visits to our sites, career workshops and the potential for a long-term career opportunity."
This year, with Johnson & Johnson Vision Care Ireland celebrating 25 years in Limerick, Mr Lynch would like to take the opportunity to thank colleagues past and present, suppliers, partners, and the local community.
"Over the last 25 years, the talented workforce, incredible support of the community and network of suppliers and partners here in the Mid West have supported our business and helped us to deliver to billions of customers around the world," he said.
Mr Lynch concluded: "It has been an incredible journey since Johnson & Johnson Vision Care Ireland opened in Limerick in 1996. 41 of the employees that started here on the opening day 25 years ago are still working with us today. We will be marking the 25 years with a celebration for our workforce.
"We are confident about the future and seeing continued growth in our operations in Limerick and investment in technology, automation, sustainability, technical and digital skills development to ensure we can continue to serve our patients and customers around the world. We look forward to many more successful years here in Limerick."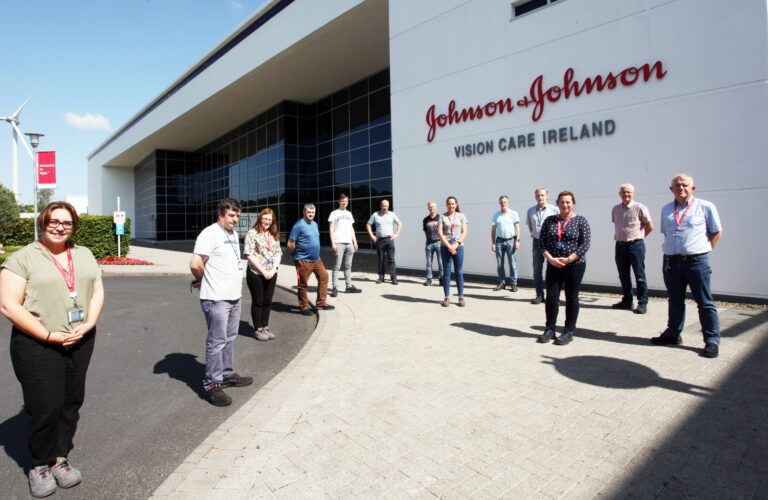 Johnson & Johnson Vision Care Ireland, a global leader with strong community ties
Since opening in 1996, Johnson and Johnson Vision Care Ireland has put down deep roots in the Mid West region. The company is committed to supporting the local community, and J&J employees are very active in fundraising, corporate social responsibility, and sponsorship activities.
According to Terry McMahon, Business Unit Manager and CSR lead: "Our people are passionate about supporting local charities and have supported multiple organisations down through the years through fundraising and volunteering.
"In February 2020 some of our people were involved in RTÉ's 'DIY SOS' programme, fronted by Baz Ashmawy. They volunteered their time to transform the home of Limerick teenager Amy Mulcahy, who captured the heart of the nation."
Throughout the Covid-19 pandemic and the resulting lockdowns, the Johnson & Johnson Vision Care Ireland teams continued with fundraising efforts through virtual raffles and walks.
When charities started to resume activities the team also volunteered their time and expertise to help them resume their services safely.
Mr McMahon explained: "As the pandemic unfolded in 2020, local charities and support services in the area were forced to close. As restrictions were lifted and these services were allowed to open up again, the charities found themselves struggling with how to open safely.
"Our Johnson & Johnson Vision Care Ireland teams had learned through the pandemic the best methods and requirements to ensure a safe working environment. A number of employees from Johnson & Johnson Vision Care Ireland volunteered to help charities reopen safely."
The Limerick site also sponsors local underage teams Aisling Annacotty Football Club and St Patrick's GAA.
"Over the past 25 years the people and community of Limerick have been very supportive of us, it is a huge source of pride to everyone at Johnson & Johnson Vision Care Ireland that we support our local community and give back when we can," Mr McMahon added.
Employee Focus
As Johnson & Johnson Vision Care celebrate 25 years in Limerick, we take a look behind the scenes and meet two employees who have been with the company since day one.
Name: Donough McGrath
Role: Senior Principal Engineer – Injection Moulding
Can you remember the day you started? I started on December 4, 1995 and the building had just been safety cleared, where only Phase 1 existed and it was completely empty of all equipment.
How have things changed over the last 25 years? The main and obvious change is the size and scale of our operation. To have seen the year-on-year growth and the associated technological development that has occurred over the last 25 years has been quite incredible.
What has been your highlight/proudest moment? Personally, seeing our latest and ground-breaking 5GT manufacturing platform get through the final qualification stage and into production. This is state-of-the-art manufacturing at its very best, underpinned by advanced engineering design principles for high output capability.
Name: Violet Gavin
Role: Staff Quality Engineer in Quality Operations
Tell us a little bit about your first day at J&J: I started working for Vision Care as a quality control technician right after graduating from LIT. It was my first role and I was very nervous, but I soon settled in and I haven't looked back since!
What changes have you noticed over the past 25 years? Substantial production lines have been added along with new products and technologies. I am hugely proud of our many innovations and achievements. It has been very exciting for me to be involved from the start, watching the site and the teams that support it grow. My son who attended the first ever family Christmas party 25 years ago as a toddler now works on one of our newest manufacturing lines.
What has been the highlight/proudest moment of your career? Vision Care has been hugely supportive of my professional development, including a Masters in Science, which I completed through the Vision Care Mentoring and Continuing Education Programme. I am also very excited with my most recent assignment in the J&J Talent Rotation Programme where I have taken on a role providing support to the teams for regional readiness for the Covid 19 vaccine launch in the EMEA region.