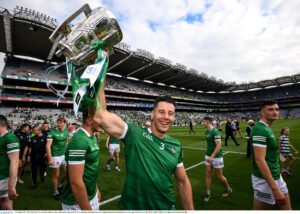 AHANE'S Dan Morrissey was the enforcer of the Limerick full-back line for the entirety of their All-Ireland final win over Cork at the weekend as the Shannonsiders cruised to a 3-22 to 1-22 win over the Rebels.
Rarely did the Limerick rearguard look troubled with Morrissey flanked by Sean Finn and Barry Nash who were both excellent, not only in Croke Park but throughout the year.
Morrissey now has three All-Ireland medals which he obtained over just four years, making both him and this Limerick team immensely significant amongst the games long history.
Reflecting on their most recent success, Morrissey spoke about his sides 'amazing' journey to where they are now.
"Three All-Ireland's in four years when you're coming from Limerick is huge, growing up it would have always been your Cork's, Kilkenny's and Tipperary's so to have the success that we've had over the past 4 years is just amazing."
This current side are now the first Limerick senior hurling team to win back-to-back Liam McCarthy Cups, exceeding the achievements of the great Limerick team in the 1930's, captained by the even greater Mick Mackey.
Even though the players have been quick to quash any talk of it, this Limerick team is fast approaching 'dynasty' status helping Limerick to a 10th ever title.
Although despite the pressure from the achievements of the games past giants, like Kilkenny, Cork or Tipperary, both Morrissey and Limerick take each game as it comes.
"There was no talk about two All-Ireland's in a row amongst us this year, it was always the next game and we never get too far ahead of ourselves.
Limerick have been criticised in the past for their lack of goals scored throughout the season yet their half-time score of this All-Ireland bout was a staggering 3-18, although the hefty amount of points accumulated by Limerick didn't shock Morrissey.
"I wouldn't say surprised, but look it was a great first-half performance… We worked hard from number 15 back and we took our scores very well. Probably could have had another goal and a couple of more points."
Perhaps Limerick's greatest strength going into their ultimate fixture was the quality of depth they have within the squad. Manager John Kiely has cultivated a squad where even those who aren't togging out on game day, are just as sharp and ready as those who are.
Their training games are quickly becoming the stuff of legend as Morrissey highlighted the intensity of their most recent encounter.
Morrissey has done anything but cruise to three All-Ireland medals. By the end of the 2018 season, after three years on the panel, the Ahane man won his first medal while also claiming a maiden All-Star, at left wing back.
But by late in the 2020 season, Morrissey was beginning his transition to full-back with injuries to Mike Casey and Richie English forcing the switch. The positional change required countless hours of patience and practice but Morrissey made the transition appear seamless.
"When I was asked to go back to full-back last year, I went back and obviously settled in okay back there. This year I probably had a few niggles (injuries) there during the league and lads who came in played well. What ere always told is when you get the jersey you try to hang onto it, luckily I got the jersey back and thankfully it's ended on a good note today."
With the Ahane man firmly settled into the number three jersey, we will undoubtedly see him at the full-back position for many more seasons to come and hopefully many All-Ireland medals come too.
The post Dan Morrissey reflects on 'amazing' third All-Ireland final triumph appeared first on Sporting Limerick.