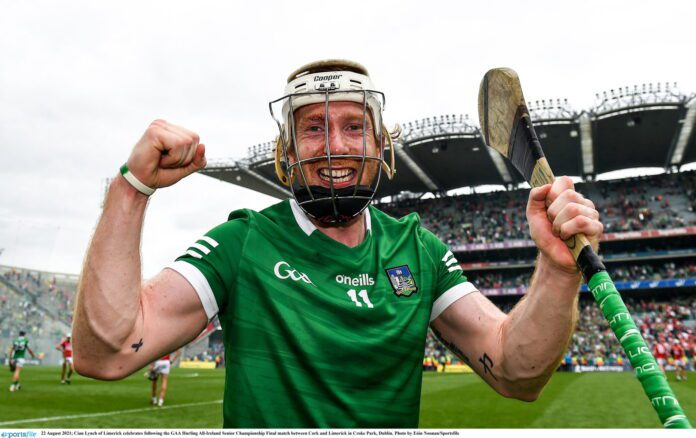 BY the end of the calendar year, the list of players to have won multiple Hurler of the Year awards will comprise of just two.
Henry Shefflin, who is widely regarded as the greatest of all time, and Limerick's own Cian Lynch.
That alone says it all about Lynch's current standing in the game.
Kyle Hayes and Seamus Flanagan had their finest years in the green jersey while Sean Finn was at his imperious best throughout.
But make no mistake, Cian Lynch was the hurler of the year and it wasn't even close.
Such was his campaign, former Galway goalkeeper James Skehill stated,
"I wouldn't even nominate two other lads. I wouldn't give three names, I'd just say Cian Lynch Hurler of the Year. And he was so good I'd give it to him next year."
The Patrickswell man had one of the greatest individual years of all time in 2021, shining in each of Limerick's four contests.
Against Cork in the Pairc Ui Chaoimh, with Limerick struggling in the first half, a quickfire double from Lynch just short of the half hour mark had the sides level.
By half time the lead was out to six with the contest put to bed.
In the Munster final, with all falling around him, Lynch put it up to Tipperary in the first half, winning a number of puck outs and hitting over a score in reply to their early goal.
With his teammates back at it in the second half, Lynch was able to resume his duties as conductor in chief as Limerick made it three-in-a-row in the province for the first time in 85 years.
Arguably his quietest day came in the All-Ireland semi-final, but a quiet day for the centre-forward is unlike others as he clipped over three points from play and set up countless others.
And his All-Ireland final performance will go down as the best ever as he claimed Man of the Match in a display for the ages.
In isolation, his first half performance was worthy of the accolade, as was his second half display as he showcased his extensive suite of skills.
Kicking off the scoring in the opening minute from the sideline, he turned his attention to playmaking duties, setting Gearoid Hegarty free for the games opening goal a minute later with an exquisite piece of skills that bought him the split second to release the St Pats man.
Assists for four more points followed in the next half hour before he sealed his opening period salvo by releasing Hegarty for Limerick's third goal on the stroke of half time, paying little heed to Mark Coleman who was trying to foul him and setting Hegarty in on goal with a hand pass over his shoulder.
What's unthinkable for others, is effortless for Lynch.
Not content with that, he turned his attention to scoring in the second period, adding five points from every angle to cement his Hurler of the Year status.
But quickly Lynch is moving into unchartered territory where he is being considered the best of all time, despite being only 25 years of age.
His ascent is eerily reminiscent of basketball great Lebron James who is rivalled only by Michael Jordan as the games' GOAT.
James came into the NBA straight from High School as the number one pick in the draft with huge expectation.
Since then he has exceeded expectations, delivering a first title to his hometown of Cleveland, two to Miami and another in Los Angeles aged 35, winning the Finals MVP award in each of those years.
Lynch made his senior debut at 19 with similar hopes having captained the minors to a Munster title the previous summer.
On that day he hit over 0-3 against Clare and was Hurler of the Year when Limerick finally ended their All-Ireland famine three years later.
With 27 personal and team accolades accounted for already, Lynch has surpassed the lofty expectations and time is firmly on his side.
I think Matt O'Callaghan put it best when he said,
We are witnessing greatness, let's enjoy it.
The post Jack Neville: In Cian Lynch we are witnessing greatness appeared first on Sporting Limerick.