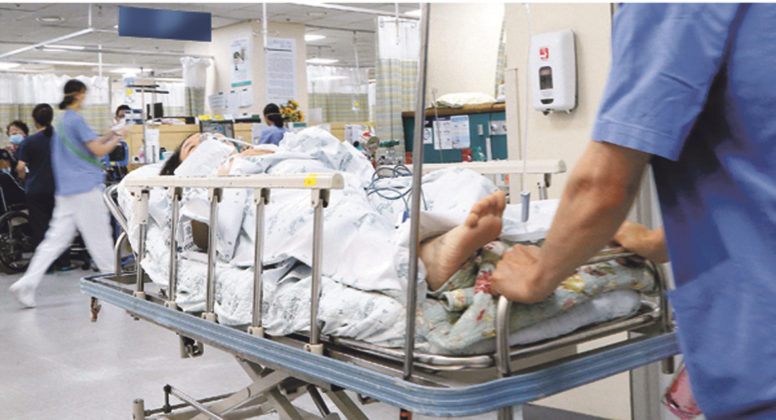 by Alan Jacques
Sign up for the weekly Limerick Post newsletter
WITH 91 people on trolleys in University Hospital Limerick (UHL) on Tuesday, October 12 – the highest daily figure since the beginning of the Covid pandemic – urgent action is now needed.
That's according to Labour Party councillor Conor Sheehan, who predicts a "Winter of Hell" if something isn't done.
He was speaking after the INMO (Irish Nurses and Midwives Organisation) Trolley Watch this week reported 91 people waiting on trolleys at University Hospital Limerick.
Cllr Sheehan also maintains that the post-pandemic crisis in the health system will not be resolved by the current government.
"These figures are frightening and it is only the second week in October. Health Minister Stephen Donnelly needs to take urgent action immediately. UHL is consistently the most overcrowded hospital in the country and these shocking trolley numbers lay it out in stark terms for the Minister."
He has called on Minister Donnelly to put in place a specific plan to deal with overcrowding at UHL.
"The number of people waiting in the emergency department is consistently the highest in the country and the Minister has done nothing to deal with it. People want the system change, not throwaway tax cuts. A fiver here and a fiver there is not good enough for the people on trolleys at UHL today.
"With Covid still circulating widely in the community and the winter flu season upon, a winter of hell awaits unless action is taken. If the numbers are this high in early October, I dread to think how high they will go in December and January."
In response, UL Hospitals Group said that it deeply regrets that so many patients are currently experiencing such lengthy wait times for a bed at UHL.
"These are not the circumstances in which we wish to provide care, and we are doing everything we can to ensure that wait times are minimised.
"We acknowledge the extraordinary efforts of our staff in the face of current service pressures. We are managing high demand for services on a number of fronts, including significant numbers of Covid-19 patients; an outbreak that has impacted four inpatient wards; and a surge in emergency presentations at the hospital that has been sustained for several months at this point.
"Our main priority in managing the Covid-19 outbreak has been to keep the hospital safe for patients in need of emergency care, and for those scheduled to attend for surgery, diagnostic investigations and outpatient appointments.
"While cancelling elective care is included in our escalation plan as a matter of last resort, this is not a decision to be made lightly and affects many patients who have already faced long delays in care due to the pandemic and the cyber attack," the statement concluded.