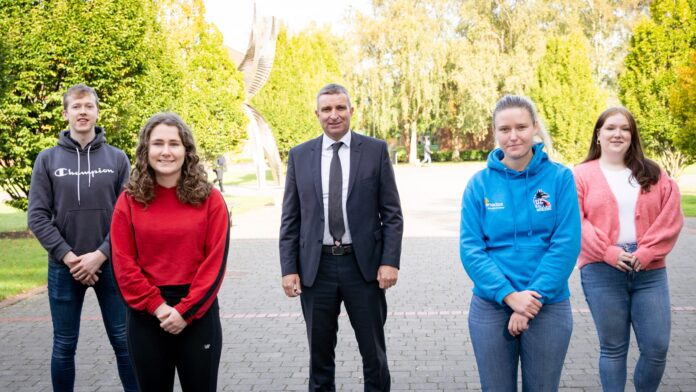 THE University of Limerick (UL) will be representing Ireland on a global stage this week as national winners of the international social enterprise programme, Enactus. UL were crowned national winners after competing against ten other Irish universities and institutions last May.
While normally held in a participant country, the event is once again being held virtually and will begin on Thursday (14th) and run for a week.  32 competing countries will present innovative social projects and be judged on the impact they are providing to society. 
Sign up for the weekly Limerick Post newsletter
The University of Limerick Enactus team will present their high-profile project Anytime of the Month, which has been making huge ground here in Ireland tackling period poverty and Moyo Nua a project that developed agricultural seeding planters for smallholder farmers in Africa.
Anytime of the Month was founded in 2019. Impacting the lives of 1 in 2 teenagers in Ireland, the team advocates for free sanitary products for all students and for greater awareness of period poverty. The University of Limerick's Student Life building now supplies free period products in all bathrooms as well as many other businesses and institutions across Ireland that have got on board with the programme.
Moyo Nua provides programmes and products to smallholder farmers in developing nations to improve agricultural productivity, by partnering with global organisations who wish to invest in pragmatic ESG programming, with tangible and quantifiable results. Moyo Nua recently completed its pilot programme with 100 smallholder farmers in Malawi, in collaboration with GOAL Global, Citibank Europe Plc., and the UL Foundation. 
In the opening round they will compete in League 8 against Ukraine, South Africa, Morocco and Zimbabwe and will find out next Tuesday if they will progress to the semi-final. The winning country will be crowned Enactus World Champions 2021 on Thursday at 4pm through a virtual presentation.
Enactus 2021 Team Ireland members include Catriona O'Halloran, Jack O'Connor, Sikhulekile Ruth Ndlovu, Katie Coughlan and Rachel Kingston. 
Minister of State at the Department of Further and Higher Education, Research, Innovation and Science Niall Collins said, "I would like to wish UL & Team Ireland the very best of luck with the upcoming World Cup. While it is a huge achievement for any Enactus team, I am particularly proud this year as my local University, UL, heads for the global stage to represent Ireland. 
Today I got a chance to meet some of the students and the academic team here in UL They talked me through their projects and how the concepts were developed and the impact on people's lives have been recorded. It is just astonishing.
Regardless of the outcome this week, I want to sincerely congratulate these students for their ingenuity and dedication to social enterprise. I also want to congratulate the University of Limerick and its staff for fostering such innovation and supporting this important programme."
Enactus Ireland Country Lead Laura Dennehy said:  I would like to wish Enactus UL and Team Ireland the very best of luck this week. They have worked so hard under such difficult circumstances that I feel they really deserve to be recognised. Their social enterprises are truly inspiring and have huge potential to make a real impact to many people's lives now and into the future.
This is Enactus Ireland 10th year running the programme and each year I become more and more encouraged by the initiatives presented by our third-level students. It is such an important programme for the students and for society and I would like to thank all the universities that took part in Ireland again this year for their time and commitment."