NOW available on bandcamp.com and streaming platforms, the new single from windings is called 'Apocryphal'.
On this new track, a blistering chiming riff carries Stephen Ryan's musings of happiness and alternative states of mind to kaleidoscopic effect.
Apocryphal is taken from the band's new album called Focus on the Past 5 due out on Friday November 5 on the acclaimed Out On A Limb record label.
Frontman Stephen Ryan notes that Apocryphal is about, "the seemingly universal human desire for "happiness" and how that desire might become all-encompassing and potentially damaging if we don't take some time to acknowledge that there are in fact other humans around us, living, breathing, and also trying to be happy. There are other emotions too though, so, y'know, maybe give them a try . . . "
windings play Vicar Street, Dublin on Saturday November 27.
STREAM/SUPPORT HERE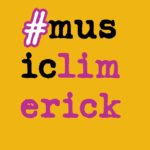 MusicLimerick – New Music Favourites is a Spotify playlist of some of the fine music being produced by Limerick artists over the last 12 months.
Follow the playlist HERE