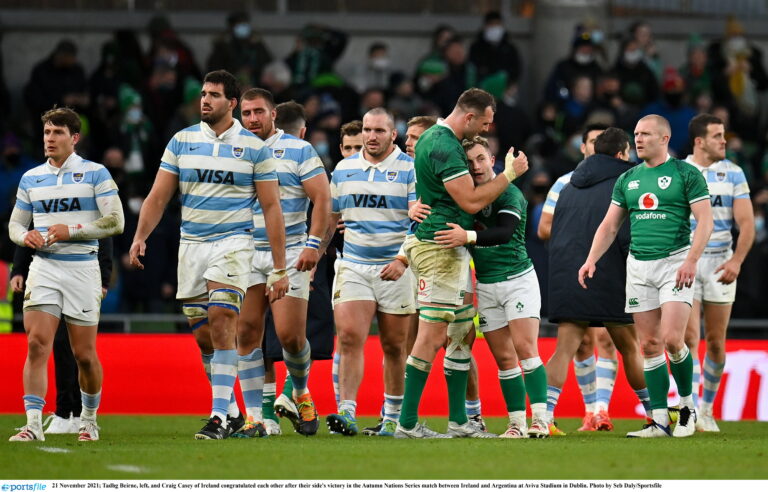 IRELAND defeated Argentina 53 – 7 in their final Autumn Nations fixture at the Aviva Stadium last Sunday.
Ireland remain undefeated in their last eight fixtures after their most recent win over Argentina at the Aviva Stadium last Sunday. The final fixture of the 2021 Autumn Nations say Ireland run in seven tries over their South American opponents, with the final scoreline being 53 – 7.
Now that Ireland are fresh off of wins against Japan and The All Blacks, they now have a wealth of positive talking points going into the Six Nations. However, that doesn't mean that there weren't any negative to learn from as a result of this years Autumn tests.
With that in mind, here are my player ratings for Ireland's comprehensive win over Argentina last Sunday:
---
Andrew Porter – 6.5
Subbed off with just under 20 minutes left to play and despite scoring the first try of the game, Porter probably felt like this game was less important. Porter had the least amount of tackles made, number of carries and meters made out of the Irish front row.
Ronan Kelleher – 7.5
Subbed off with 29 minutes left to play, Kelleher made a big impact in the 51 minutes he did play. The Leinster hooker put in 10 tackles and covered 47 meters in eight carries. Kelleher is a key part of one of rugby's most skilled front rows.
Tadhg Furlong – 8
Once again Tadhg Furlong showed just how important he is to both Andy Farrell's squad and the style of rugby Farrell wants his side to play. Unlike last weekend, Furlong was tasked with doing much more fundamental jobs like clearing out breakdowns, but he did show flashes of class when he got the ball in his hands.
Tadhg Beirne – 9
Beirne was a problem for the Argentinians, the second-row played the full 80 minutes and decorated that shift with a number of turnovers and stolen line outs. Ireland maintained 58% of the overall possession and an 89% tackle success rate, with Beirne deserving a good portion the credit. Topping it all off with a try, there's a good argument that Beirne is one of the most productive forwards in world rugby at the moment.
James Ryan (C) – 6.5
Ryan left the field early due to a HIA, the interim captain has played a lot of physical rugby over the past month and hopefully his injury doesn't impede his availably for Leinster in their upcoming Champions Cup fixtures. However for the 38 minutes Ryan was on the pitch, he did work hard to organise the Irish defensive and attacking shapes and was instrumental in the regularly seen attacking maul.
Peter O'Mahony – 8
O'Mahony took up the duties of captain when James Ryan was subbed off just before half-time due to HIA. O'Mahony settled back into a familiar role and Ireland began to play a little more ruthlessly. With some phenomenal defending and slipping some lovely offloads throughout, O'Mahony's time in a green jersey is far from the end.
Josh van der Flier – 8.5
The 27 year old is a centurion with Leinster and has reached over 35 caps for Ireland and that experience is really starting to show for the still youthful Josh van der Flier. With two tries to top it all off, the Leinster back-row now has a firm grasp on the Irish number seven jersey heading into the Six Nations.
Caelan Dorris – 9
Ireland have seen many young back-rows excel in the early days of their international career, players like Will Connors and Gavin Coombes have been on the brink of nailing down a jersey in the Irish back-row for some time but Dorris is the only player to really do just that. With ferocious carrying abilities and relentless defence efforts with the most tackles made from any Irish player (16), Dorris is fast becoming one of the most impactful back-rows in world rugby.
Conor Murray – 6.5
Farrell seems to pick scrum-halves who play very fast, but that's not exactly the category of scrum-half that Conor Murray fall into. Murray has always played at his own pace, but that pace made the Argentine line speed look very fast and made it difficult for Ireland to string an amount of good attacking phases together, with most of Ireland's scores coming from the efforts of the forward's.
Joey Carbery (MOTM) – 9
Carbery was successful on 8 out of the 9 kicks at goal throughout the 80-minutes, and the one kick he was unsuccessful from was at a nasty angle where he struck the post. Carbery ran the Irish attack very well from out-half but that responsibility didn't fall to him entirely, nor should it have. Most interestingly, Carbery dropped to full-back upon the introduction of Harry Byrne yet he retained kicking responsibilities throughout. Carbery's comprehensive performance wasn't just reassuring, it was also very impressive.
James Lowe – 6.5
We didn't see much from Lowe throughout the game, even though he played the full 80 minutes. The back three as a whole didn't feature much at all, with many of their stats from the game being amongst the lowest within the Irish team. Lowe and Baloucoune both carried a total of nine times throughout the 80 minutes, yet Keenan carried six times in the 51 minutes of action he saw. Perhaps this was a deliberate effort of behalf of head coach Farrell, but it was a quiet day for the Irish-back three.
Robbie Henshaw – 8
Henshaw's return to Irish rugby came to an end after the 66th minute last Sunday, but he still managed to make the most carries (12) out of anyone on the Irish team. Although he was relatively quiet when on the defending side of the ball, Henshaw's return was welcomed due to the physical impact he made.
Garry Ringrose – 9
Amazingly, Gary Ringrose has played every minute of the Autumn Nations Series this year. Making 69 meters in just 11 carries, 0 handling errors and nine tackles made, Ringrose continues to be one the hardest working player on Farrell's Ireland team.
Robert Baloucoune – 7
We were all excited to see Baloucoune get into some space yesterday, but sadly it didn't happen. Like his fellow winger Lowe, Baloucoune played the full 80 minutes but only managed to carry nine times. However Baloucoune was far more productive with his nine touches than Lowe was with his, with the Ulster winger covering 78 meters when utilised while Lowe only covered 25. Although underwhelming, it wasn't a bad day for Baloucoune.
Hugo Keenan – 6
Like many of his Leinster teammates who were also named for Sunday's clash, Keenan only saw 51 minutes of playing time and was relatively uninvolved in comparison to his performances against Japan and the All Blacks. Keenan kicked more than he carried and made one tackle.
Replacements
Dan Sheehan – 7.5
Sheehan seemed much more comfortable in his second cap and enjoyed 30 minutes of playing time, he threw well at the line out and was dominant in collisions when he got his chance to carry. Sheehan also scored his first international try.
Cian Healy – 7.5
Healy got to play a bit of loosehead for the first time in a green jersey. The Irish centurion has made a career at tighthead but is now looking to extend his career at the other side of the scrum. Healy played the final 20 minutes and kept the ship steady, he also crossed the Argentine try line to earn his ninth international try.
Tom O'Toole – 7
O'Toole made a defensive impact when he entered the game for the final 20, making nine tackles and missing zero.
Ryan Baird – 8
Baird was a fan favourite after the final whistle last Sunday. The Leinster lock made a significant impact when he replaced captain James Ryan just before the end of the first half, adding to his already impressive performance with a gallop deep into Argentinian territory. The 22 year old will continue to be a multi-skilled addition to Farrell's side for some time to come.
Nick Timoney – 6.5
A quiet performance in the 20 minutes given to the Ulster back-row, yet he was faced with his toughest challenge before the game when he was called up in place of Ian Henderson who was ruled out mere hours before kick-off. Timoney had to prepare for an international test match the morning of, having only been called into camp the night before as cover for the unexpected injury of Jack Conan.
Craig Casey – 7.5
Casey fits Farrell's game plan very well, and the half hour he got yesterday is good proof of that. Casey plays quick, and in the half hour Casey was on the pitch, he threw just 13 fewer passes then Conor Murray did in the 50 minutes of playing time he received.
Harry Byrne – 7.5
Byrne had a shaky start to his second Irish cap, forgiving a few poor kicks and one shocking pass to Furlong which went straight into touch, Byrne knew the important bits. He displayed impeccable knowledge and execution of the attacking set piece and he also made a significant defensive impact with seven completed tackles.
Keith Earls – 6.5
We didn't see much from the Munster legend when he came into the game with just 15 minutes remaining. An already defeated Argentina side were easy to defend against as Ireland were without the ball for much of the games final few minutes.
The post Player Ratings | Dorris, Carbery and Ringrose set the standard as Ireland dismantle Argentina appeared first on Sporting Limerick.