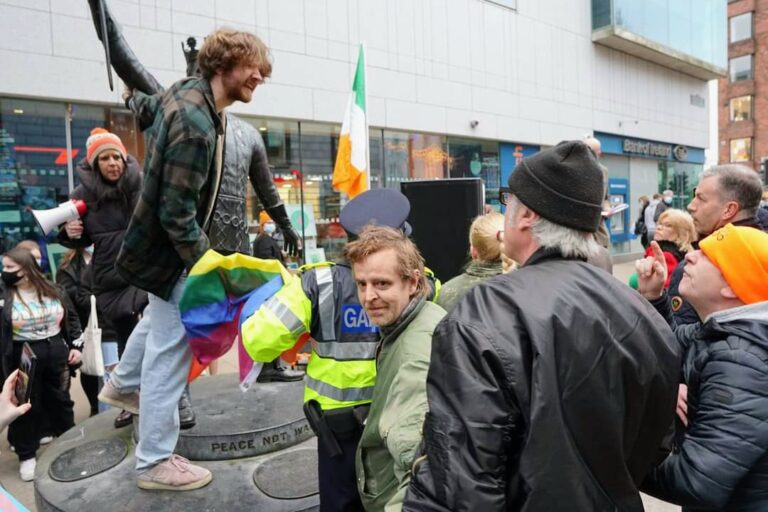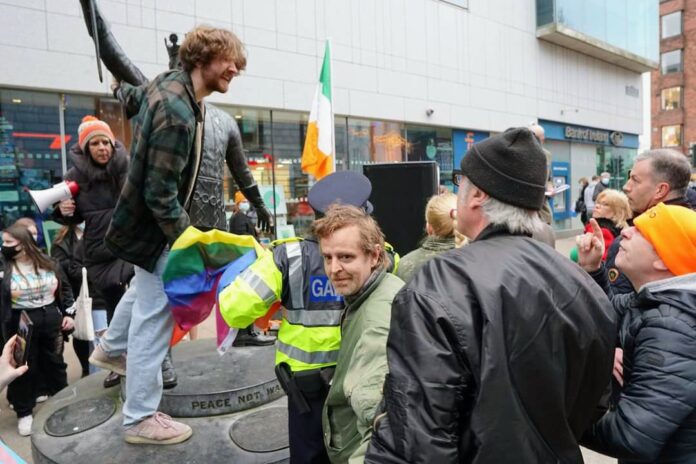 by Alan Jacques
UP to 100 people, made up of mainly young people with Pride flags, gathered to challenge a rally of the Irish Freedom Party (IFP) in Limerick last weekend.
According to witnesses, the rally at Bedford Row was dispersed by gardaí after an IFP supporter attempted to tear a Pride flag out of a counter-protester's hand while shouting homophobic slurs and death threats.
One anti-fascist activist named Steph explained why she was there: "The Irish Freedom Party, like all far-right parties in Ireland, have been attempting to manipulate people's frustrations at the Covid restrictions and the Government's woeful response to the pandemic."
"Preying on the insecurity and confusion thrown up by the pandemic, the far-right has been pushing a narrative that they are in favour of freedoms while attempting to camouflage their intentions to impose restrictions based on their racist, homophobic, sexist, and transphobic ideas.
"They have been travelling around the country to try and win support for their reactionary ideas, and we felt enough was enough and their true character needed exposing," she added.
Socialist Party activist Mary Cahillane said the response of the Limerick public was very encouraging.
"I doubt the Irish Freedom Party will be in a rush to return to Limerick given the overwhelmingly negative response they were met with on Saturday," she told the Limerick Post.
"There's a huge credit due to those people in the Limerick Against Fascism group who pulled together the counter-protest and the amount of young people who participated would fill you with hope about the potential to not just stop hateful groups from getting roots, but of the possibilities of building a powerful movement for radical change in the city," she concluded.
There was no response from the Irish Freedom Party at the time of going to press.