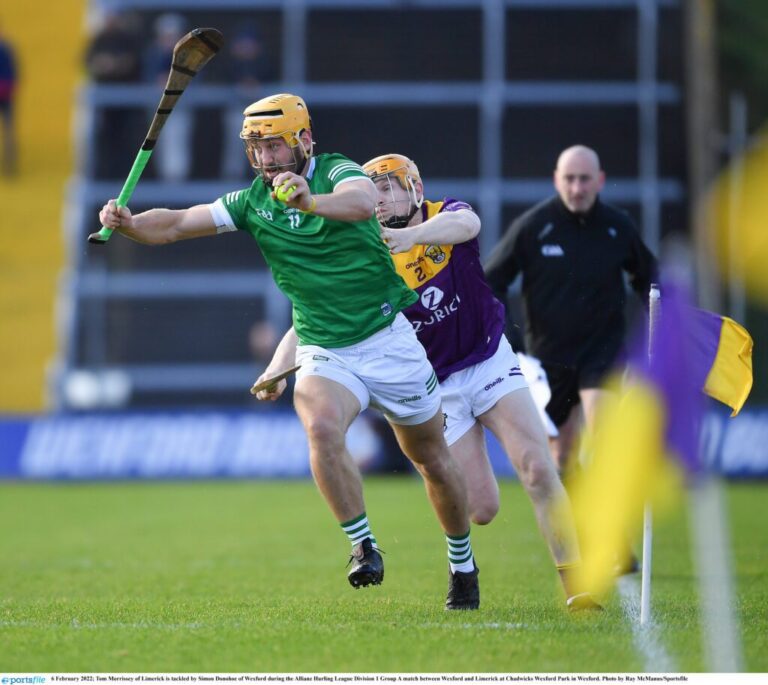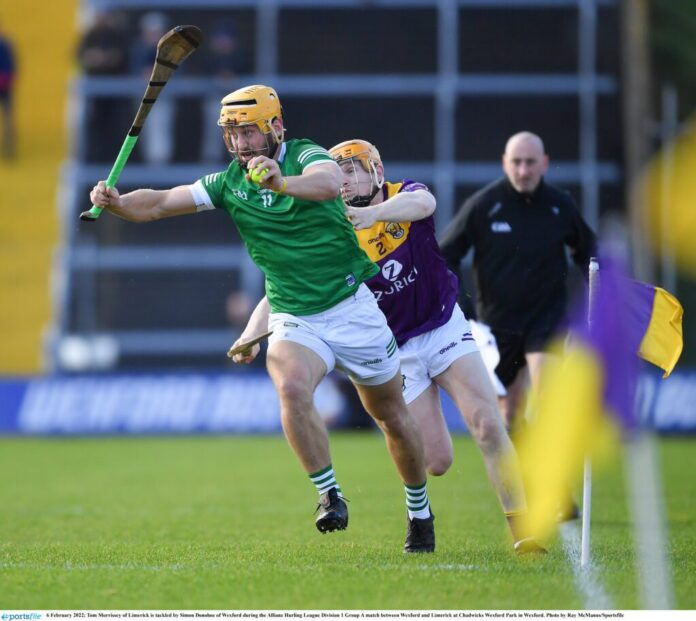 LIMERICK suffered a one-goal defeat at the hands of Wexford in their Allianz Hurling League opener. John Kiely's side were poor in front of goal at hit 18 wides over the course of the 70 minutes.
A goal from Mikie Dwyer proved crucial for the Leinster side, who had slumped to Walsh Cup final defeat last weekend.
There was a sizeable and vocal Limerick support at Chadwicks Wexford Park, among the 6,500 in attendance.
John Kiely named nine of those who started the 2021 All Ireland final but made a late change to the team with Robbie Hanley replacing Brian O'Grady at midfield.
Wexford meanwhile were made to wait a bit longer for the return of Rory O'Connor, with Connal Flood replacing the St. Martin's man.
The opening half was shaded by Limerick on the scoreboard, 0-7 to 0-6, but it was a difficult half for the men in green. Playing with the advantage of the wind, Limerick were unable to get into their usual rhythm and trailed for much of the half. They only went ahead when Diarmaid Byrnes landed his second placed ball, in the 35th minute.
Before that, Limerick had accumulated 10 wides, with Colin Coughlan, Aaron Gillane and Hegarty among those misfiring from distance. Indeed, having missed two frees, there was an expectation that David Reidy would return to placed ball duty, but Gillane continued with them.
Limerick's use of the ball was not what onlookers are used to seeing, and indeed Limerick went from the 55th minute through to full-time without scoring as they ultimately get anywhere near their heights of 2020 and 2021.
For Wexford, they were pressing Limerick in the middle third, and had scores from Oisin Foley, Diarmiuid O'Keefe and Connal Flood. They could have been in a better position but for a great save from Nickie Quaid. He was at his best to deny Conor McDonald with a great save.
Darragh Egan's side took the lead on 58 minutes, when Mikie Dwyer grabbed a free that dropped short before shaking off a couple of Limerick defenders to drill low beyond Quaid.
Conor McDonald and Connall Flood were both on target late on to seal a precious victory for the Yellow Bellies.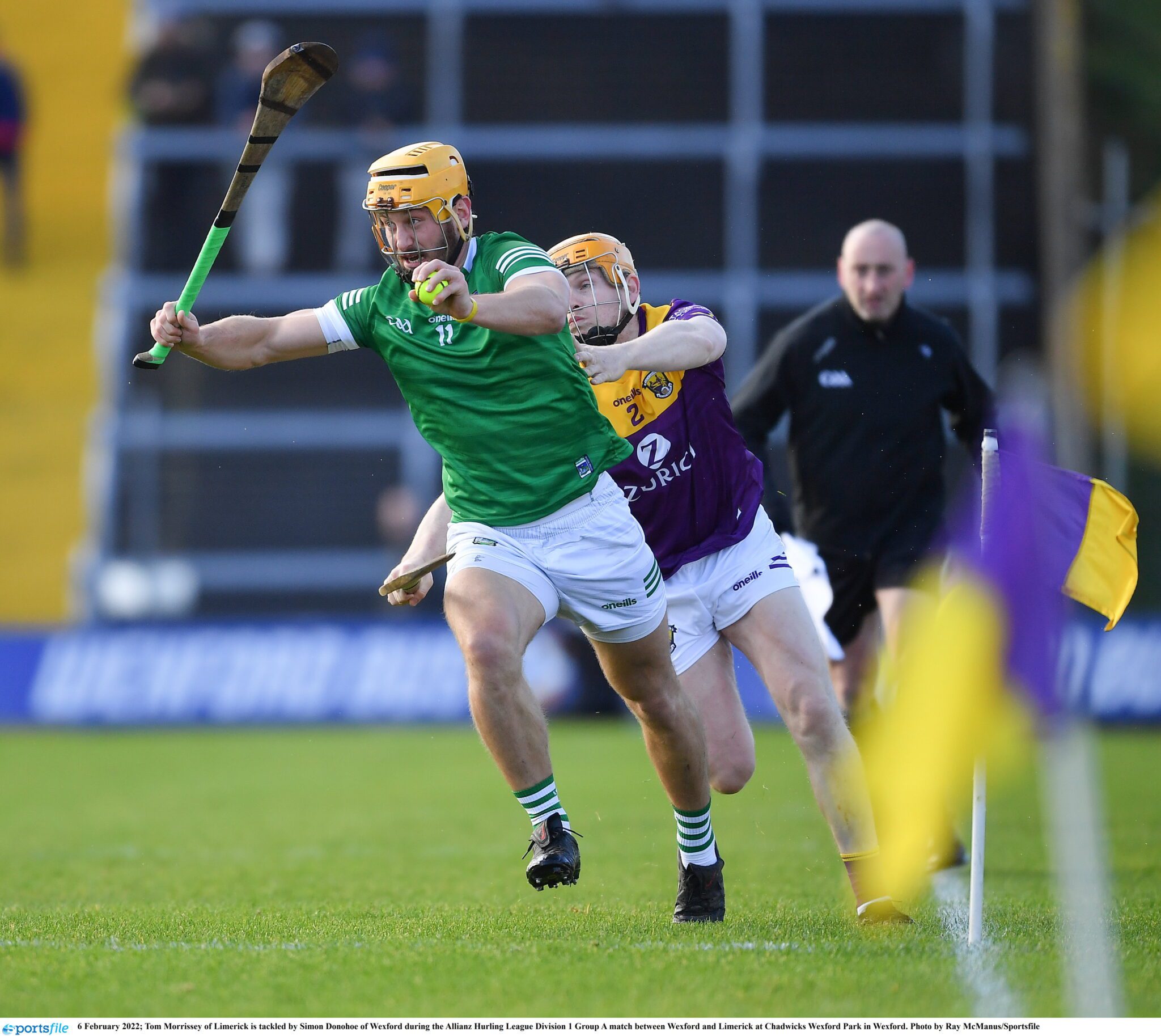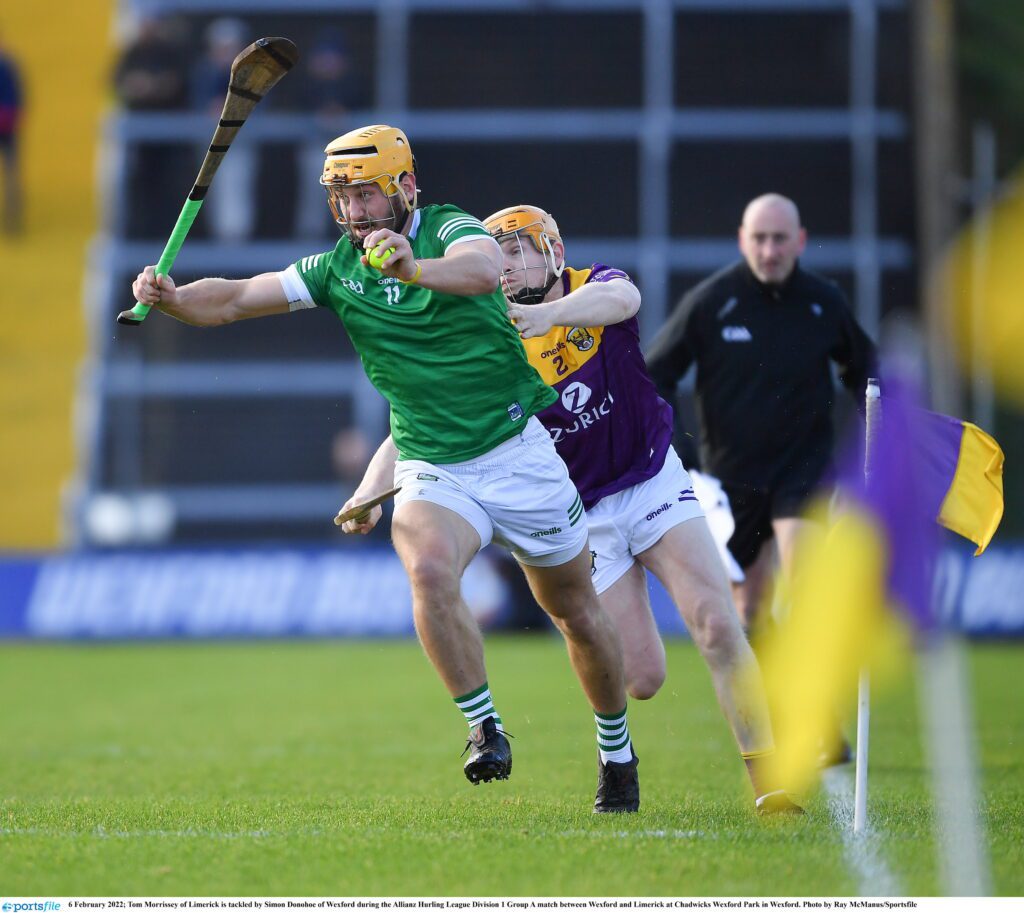 Wexford: Jack O'Connor 0-5 (0-4 frees); Mikie Dwyer 1-0; Oisin Foley, Connal Flood 0-2 each;
Diarmuid O'Keefe, Conor McDonald 0-1 each.
Limerick: Diarmaid Byrnes (0-1 '65, 0-2 frees), Hegarty 0-3 each; Aaron Gillane (frees) 0-2; Declan Hannon; David Reidy (free), Robbie Hanley 0-1 each
Wexford: Mark Fanning; Simon Donohoe, Liam Ryan, Matthew O'Hanlon; Damien Reck, Paudie Foley, Jack O'Connor; Diarmuid O'Keeffe, Cathal Dunbar; Oisín Foley, Liam Óg McGovern, Charlie McGuckin; Connal Flood, Conor McDonald, Mikie Dwyer.
Subs: David Dunne for Dunbar (59), Oisín Pepper for McGuckin (64), Paul Morris for O'Connor (69).
Limerick: Nickie Quaid; Barry Nash, Dan Morrissey, Richie English; Diarmaid Byrnes, Declan Hannon, Colin Coughlan; Robbie Hanley, William O'Donoghue; Cathal O'Neill, Tom Morrissey, Gearoid Hegarty; Aaron Gillane, Pat Ryan, David Reidy.
Subs: Seamus Flanagan for Gillane (ht), Conor Boylan for O'Neill (60), Darren O'Connell for Reidy (66), Brian O'Grady for Hanley (69)
Referee: Thomas Walsh (Waterford)
The post Wasteful Limerick slump to Wexford loss appeared first on Sporting Limerick.