AS BODIES of their fellow countrymen and women were being buried in mass graves in Ukraine, some who came to Limerick to escape the horrors of the war gathered at a vigil this Wednesday to remember their dead.
On Bedford Row, a group of Ukrainian women and children prayed, and sang with hope that there would be an end to the war.
Standing in solidarity with Ukrainian President Volodymyr Zelenskyy ahead of his historic address to the Dáil and Seanad on Wednesday morning, they said they also hope they will be reunited with their husbands, sons, brothers, nephews, uncles and grandfathers, who went to the frontline to defend their home country.
Two of the refugees, Katherine Ninahirnyak, and her son Max (9), arrived in Limerick a week ago.
"For us, this is a chance to be united and to cry a little as well and to remember who we are. Our towns are ruined, our homes are burned down, our men are still fighting there so we are trying to be strong for them also," Ms Ninahirnyak said.
"In 2014, my home was burned by Putin. I moved. Eight years later, he has come back and burned another one of my homes."
"I thank the Irish people. They have been very kind to us as we try to wait out the war and then return to Ukraine and build our nation again".
Mother and son may have found refuge from Russian bombs and bullets, but worry for her parents Lydmila and Zinurar, who she says are too proud to leave Ukraine.
She talks to her husband and Max's father, Dima, a lawyer who stayed behind to take up arms to defend his country.
Ms Ninahirnyak says their home town was a peaceful place to live, but it is now "ruined completely by Russian troops who came and destroyed everything".
"For my son, and for all Ukraine children, it is very hard for them to be separated from their fathers. Max's father used to be a lawyer, but now everyone is united with one cause."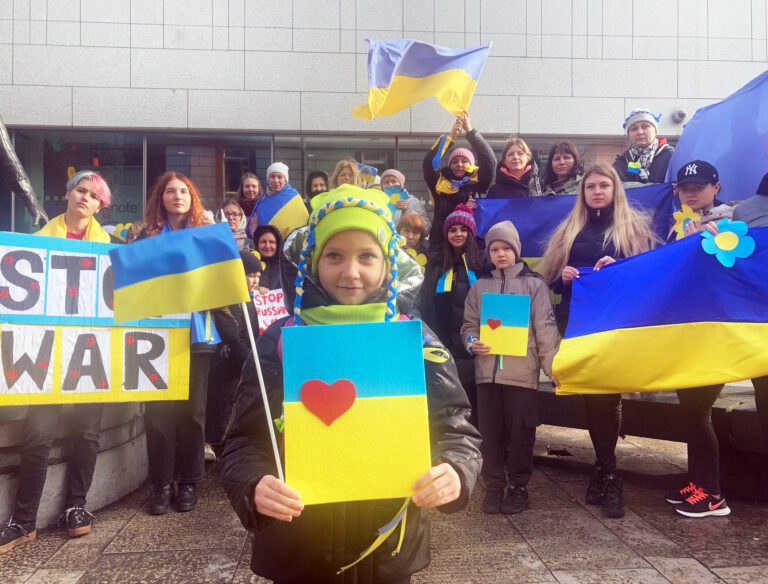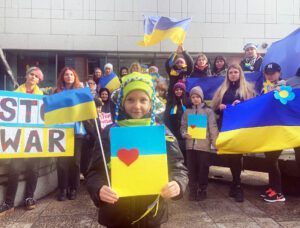 She says her husband is waiting to be admitted to the Ukrainian army because there are so many men wanting to fight there isn't enough armour for them.
"They are very brave and they don't want to leave their country. They are ready to fight and protect their land."
She says her parents, both in their 60s, refuse to be forced out by the Russian invaders: "They love Ukraine, they don't want to leave anymore. They tried that in 2014 and they said 'never again'."
Others from the group call for NATO to "close our skies". They want Europe and the US to hit back at Russia, and stem the tide of Russian missiles that rain down on Ukraine's citizens every day.
Ms Ninahirnyak and sons journey to Limerick has been "very hard", involving a two-day trek across their war-torn country to get to safety at the Polish border, before drifting to Warsaw, on to Dublin and then Limerick.
She thanks the army of volunteers who "fed us and clothed us to keep us warm and who have given us accommodation".
"We are trying to find schools and jobs, because we don't want to be a burden to the Irish government. We are trying to do our part, we are a very hard-working people," she adds.
Almost two months on from the outbreak of the war, Ms Ninahirnyak says she is still struggling to comprehend the situation.
"I couldn't believe it happened, it was a shock. Maybe I am too naive to understand how one person can lead the nation to torturing other people, killing other people, stealing from us."
"The Russian troops came into our homes and they took stuff from our houses and it seems so cruel. They are torturing our men and killing our men."
Her feelings for the Russian President, Vladimir Putin, and her thoughts on what will bring an end to the war, are clear.
"The only way to deal with this is to get rid of one man, and then we can all get back to our lives."