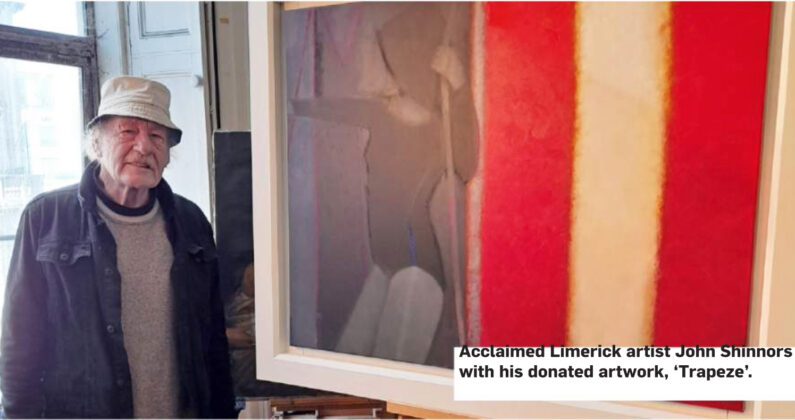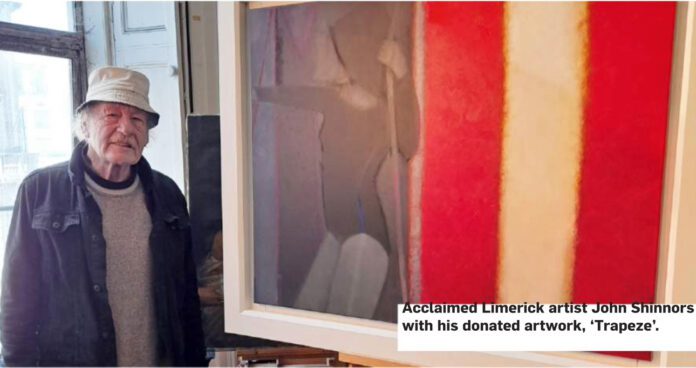 ONE of Limerick's most prominent artists, who has donated his newest work to an auction to raise money for Ukrainian refugees, wants to see the proceeds used to buy Kalashnikovs.
Speaking to the Limerick Post this week, celebrated local painter John Shinnors said he was happy to donate his newest painting 'Trapeze' to an upcoming fundraising event in the city.
Mr Shinnors, whose previous work has sold for as much as €250,000, is currently putting the finishing touches to his latest composition, which will help raise funds for Ukrainian refugees arriving in Ireland.
John explained why he was happy to donate the piece.
"I don't think anyone could envisage in today's modern and civilised world the idea of being thrown out of your home, not to mind your country.
"I have a natural compassion, and when you consider our own history, where we were invaded every century, mostly by the English, over the last 800 years, it would be hard not to be moved to help."
However, Mr Shinnors takes the view that what the Ukrainian people really need are weapons to be able to fight back against the Russian onslaught. This, he believes, would give the Ukrainian people a "means of survival", especially he said, in light of the latest atrocities in the city of Bucha.
"I don't want the money to go to children. Look, there is enough people raising money for them already. I would rather it was used to buy Kalashnikovs. That's what they really need. It won't buy a tank but guns, yes, so the Ukrainians can defend their homeland."
Why?
"Well, I think the rebellion in Wexford of 1798 is a good example why. The peasants had to fight British rule with their hands, but if they had the finances they could have bought pikes, which were the weapon of choice at the time.
"Another example is the people of Limerick fighting cannons and muskets with sticks and stones.
"In today's modern world you cannot take on armed forces with your bare hands. So, yes, I really would like to see the proceeds of my painting used to buy Kalashnikovs to give the Ukrainians a fighting chance. Weapons would give them a means of survival."
For now, however, John is happy to take the more peaceful approach with all proceeds from his latest work going to an upcoming auction supporting Ukrainian refugees arriving in Ireland. For more details on the art auction see next week's Limerick Post.