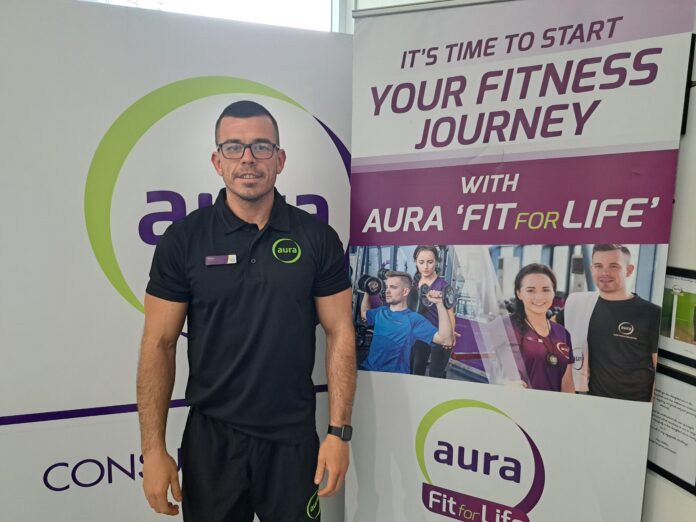 AURA Leisure Centre Grove Island has something to suit everyone, whether you want to relax and unwind or achieve a new level of fitness, this family-friendly centre with a state-of-the-art gym, a 25-metre swimming pool and health suite is your one-stop-shop to a whole new you.
Duty Manager Eimhin Hogan, who has worked at Aura for 11 years said: "I really enjoy working here and seeing people achieve their fitness goals, but the most rewarding feeling is seeing all the kids progress through our swim academy.
"A lot of people are scared to join the gym in fear they will be judged, but no one takes any notice of anyone else in the gym, we are all there for the same reason and that is to become better than what we are."
Eimhin, who is a qualified fitness instructor and lifeguard is passionate about health and fitness and enjoys helping people become a better version of themselves.
With 40 fitness classes a week to choose from, which are free to members, such as Boxercise, Kettlebells, swimming lessons for adults and children, aqua aerobics or spin classes, you are guaranteed to find some form of exercise that suits you, and then you can unwind with a relaxing trip to the sauna, steam room and Jacuzzi.
"The fitness classes are a great way for people to train in a group environment. Our most social aspect of the site would be our Aqua aerobic classes which run five times per week, we hold a coffee morning for these members every Monday so they can chat after the class," added Eimhin.
If you would like to hear more about what Aura has to offer, you can contact the centre at 061 350 221 or pop in for a tour. They also have a recruitment open day on June 23 for anyone looking for a career in fitness.