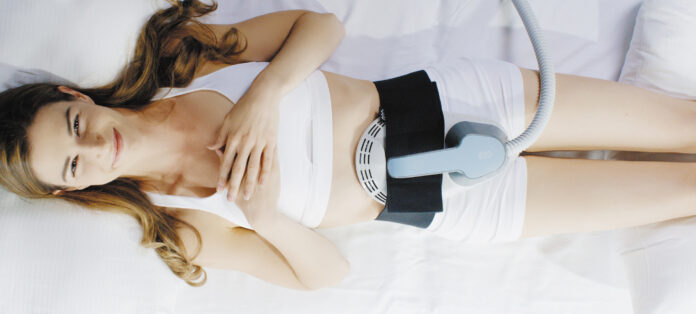 A NEW revolutionary treatment available at Thérapie Clinic Limerick uses cutting-edge technology to tone your body and help eliminate fat.
EMSCULPT®  can visibly reduce body fat on your arms, thighs, buttocks or abdomen; it also grows muscle mass while you lose fat in these areas. The treatment is equivalent to 20,000 crunches in just 30 minutes, and is beloved by celebrities including Kim Kardashian, Jennifer Lopez and the Real Housewives.
EMSCULPT®  is a non-invasive technique that builds muscle and burns fat simultaneously. This body contouring procedure, suitable for both men and women, helps build muscle and sculpt the body while burning fat. One session visibly reduces fat by up to 19 per cent (on average) and increases muscle mass by up to 16 per cent (on average).
EMSCULPT® is based on high intensity electromagnetic energy. A single EMSCULPT® session causes thousands of powerful muscle contractions, which are extremely import­ant in improving the tone and strength of your muscles. It strengthens the targeted muscles per session leading to a firmer body over time.
The treatment is the Ultimate Gym Cheat. It feels like an intense training session, even though you are lying down for the entire treatment.
Thérapie Clinic on Cruises Street, Limerick provides this treatment which can be on the following areas: abdomen, glutes, triceps, biceps, and calves.
To book your free consultation, see https://www.therapieclinic.com/ or call Limerick Cruises Street on 061 788652.