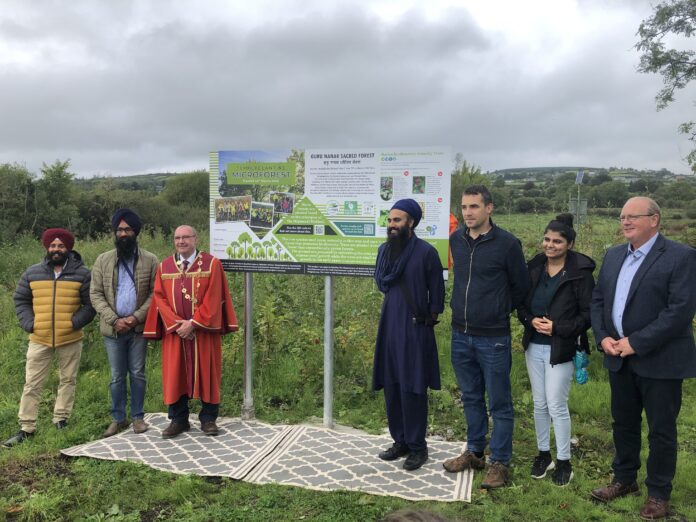 THE OFFICIAL opening of the Templeglantine Guru Nanak Sacred Forest, took place on Sunday, attended by Limerick Mayor Francis Foley and Dr Jagdeep Singh from EcoSikh Ireland.
Two plaques were unveiled at the recently-planted micro forest.
Dr Singh said: "It was my pleasure to unveil the stone marker and infoboard signage accompanied by the EcoSikh Ireland team, alongside Mayor Foley and the community at Templeglantine. We hope it will provide inspiration and context to all new visitors at this special site."
Over 1,000 trees were donated by the Sikh community, and the opening ceremony followed the successful planting day back in March, fostering good relationships between the two communities. 
Micro forests are planted based on the principles of the Miyawaki Method. The tree species used grow naturally in this area and vary in sizes to create a multi-layered forest that promotes biodiversity.
Trees are planted densely and grow up to ten times faster than in conventionally grown forests. The ground was prepared by cultivating the area and applying a layer of cardboard to supress weed growth while the trees are small and nutrient rich compost to support in the early years. 
Located in the historic core of Templeglantine Village, beside the National School (dating from 1843) and opposite Holy Trinity Church (dating from 1829), the micro forest is also easily accessible to visitors passing on the nearby Limerick Greenway.
Templeglantine native Michael (Max Arthur) MacAuliffe is held in high esteem amongst the Sikh community, for his translation into English of the Sikh Scriptures, the Guru Granth Sahib.
Mr Mac Auliffe is a past pupil of Templeglantine National School and son of the school's very first principal John Mac Auliffe.  He joined the Indian Civil Service in 1862 and arrived in the Punjab – a state bordering Pakistan – in 1864 where he remained for the next 30 years, developing a strong interest in the Sikh religion, which he later converted to.