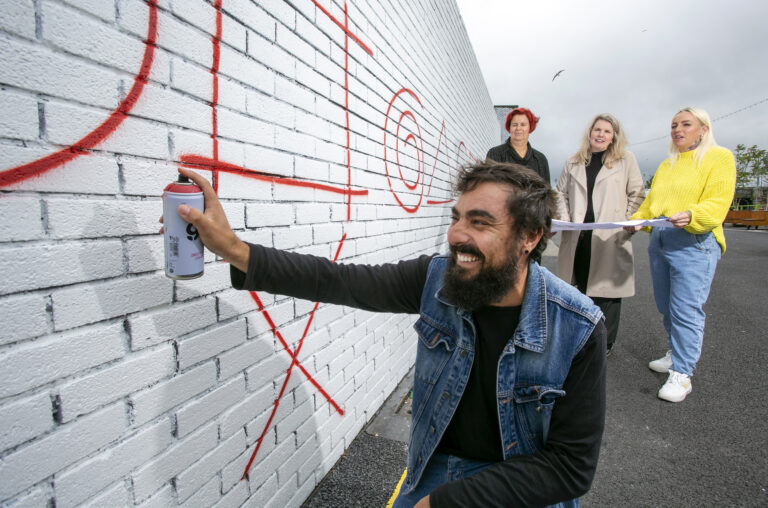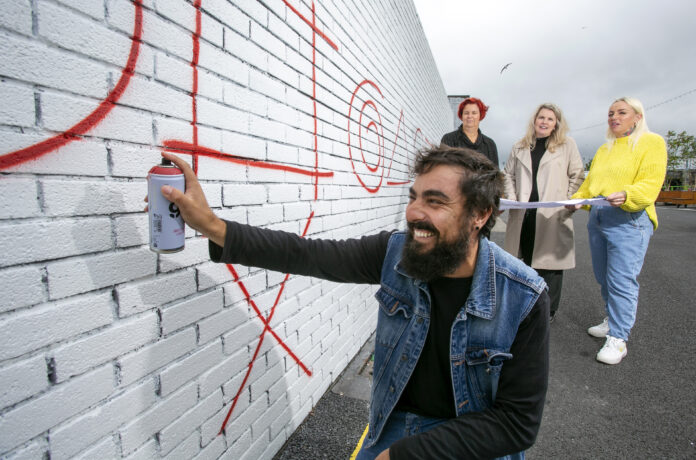 INTERNATIONALLY renowned artist Digo Diego has started work on a mural that will cover the entire façade on the Honan's Quay side of the University of Limerick's City Centre Campus.
The project is being developed in tandem with local artist collective Draw Out and through a partnership agreement with Limerick City and County Council.
Digo Diego is an urban artist and muralist from Spain who is heavily influenced by the environment and social issues and considers his murals a canvas to enhance, revitalise and educate.
He said: "I am very excited to start the project. I like how the University, the City of Limerick and Draw Out and everybody involved are facilitating us.
"It is very interesting to me to create a piece that is going to be a part of something bigger," he added.
UL President Professor Kerstin Mey said the mural signals both UL's ongoing commitment to its city centre campus and the future transformation of this landmark site at the banks of the River Shannon.
Limerick City and County Council Director of Planning Nuala Gallagher said the mural will add fantastic colour and vibrancy to that part of the city centre.
"We have already seen how this area has been transformed with the artistic work carried out at Honan's Quay and the use of the mobile urban forest to enhance this important part of the city," she added.
Limerick City Build, who run Draw Out, started enabling works for the project, which began on Monday and will take several weeks to complete.
Managing director Catherine O'Halloran explained that the first phase of the work is focusing on the external walls of the campus façade.
"In the second phase, we will do some more of the internal structure of the building and the higher elevated pieces. There will be a short interval in between of maybe three weeks and Digo will return then to conclude it.".
"He will spend some time in the city getting to know and embed himself in the fabric of Limerick and then respond again back into the design with any other considerations he might have.
"That might mean the design changes significantly or not at all – it is leaving room for that process to take place, which is the important thing," Ms O'Halloran added
The mural is the first stage in improving the look of the building as UL begins work on a masterplan for the further development of the City Centre Campus in collaboration with the council.
A development plan is due to be finalised during 2023 and a goal to lodge a planning submission by the end of next year.
UL is currently considering proposals for an interim use while the master planning for wider use takes place.