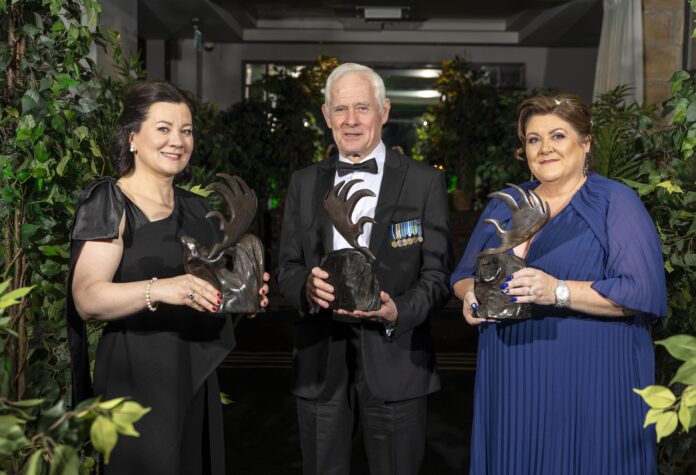 WHEN three University of Limerick graduates were presented with UL Alumni awards last Saturday night it brought the number of award recipients to 50, which was an appropriate number to mark the 50th anniversary of the founding of the University.
The annual awards, hosted by UL Alumni, celebrate the achievements of outstanding graduates.
This year's recipients are Coillte chief executive Imelda Hurley, Retired Irish Army Colonel Colm Doyle and St Munchin's Community Centre chief executive Linda Ledger.
Ms Hurley, who is also President of employers' lobby group IBEC, received her award for outstanding contribution to business.
Col Doyle, who is former United Nations Military Division Chief of Staff  at the Department of Peacekeeping Operation, received his award for his humanitarian work.
Ms Ledger received her award for her outstanding contribution to society.
During the ceremony, there was a moment's applause to remember UL alumna, former staff member and honorary doctorate recipient Dr Vicky Phelan. Previous Alumni Award recipient Peter Real, former Vice President at Analog Devices was also remembered at the event.
UL President Professor Kerstin Mey said: "The poignancy of our appreciation should be seen through the prism of respect for all, as the people within our community – students and staff alike – is what we consider to be our greatest strength.
"The achievements of our alumni, of which there are over 118,000, can be seen and witnessed all over the world and that treasury of talent that we have shared far and wide, reflects enormously well on us.
"This magnificent cohort of talented individuals are the embodiment of the story we want to tell at University of Limerick.
"Worldwide, as University of Limerick graduates continue to make enormous contributions via their chosen life paths, their achievements reflect enormously well on their alma mater.
"The Alumni Awards programme is designed to recognise graduates who have made an outstanding contribution in particular fields.
"Our first ever UL Alumni Awards ceremony was hosted by in 2006 and to-date, we have honoured the work and lives of 47 graduates.
"Tonight we bring the membership of that illustrious group to 50. A fitting number given this, our year of celebration," Professor Mey added.