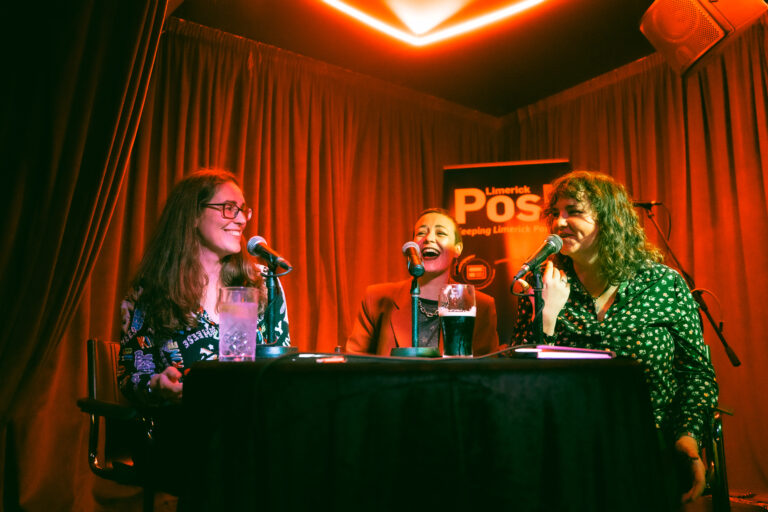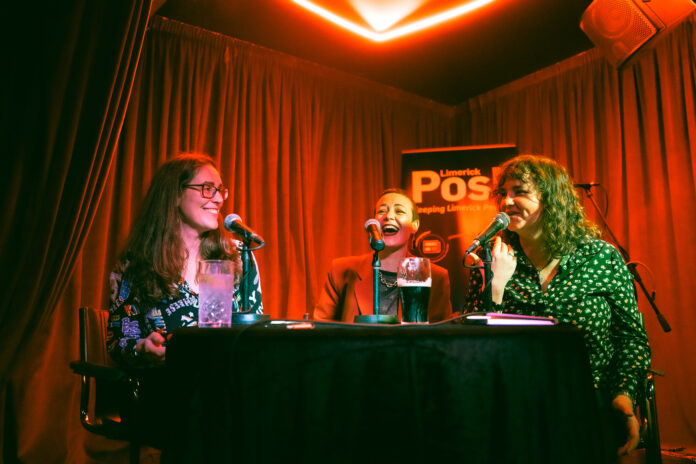 REPORTER Sadhbh Pearce (@sibhhead on both twitter and instagram) attended The Limerick Lady Live Podcast and sent in this fantastic review.
THE Record Room filled with laughter and banter last week as The Limerick Lady podcast hosted their second ever live podcast session in the cosy venue, which was lit with subtle red lights and was lined with chairs for the attendees.
The podcast is hosted by local songstress Emma Langford and the lovely Ann Blake. The podcast itself, which was founded in 2016, is recorded in Limerick city and tends to focus on topics surrounding gender such as equality, representation and opportunities in the creative industry.
For the event the line up included guests such as Sharon Slater, Abe Soare and The Wild Geeze.
Emma and Ann took to the stage to the arranged table and microphone set up, notes to hand ready to learn more.
Emma was sporting a rust coloured suit, a celestial patterned mesh top, her faithful black boots and her usual statement jewellery, while Ann wore a black blouse with dainty floral detail and wore her gorgeous curls loose, reaching her shoulders.
They began with the usual opening banter with Ann even imitating the intro music that would normally accompany the podcast. They welcomed the crowd, mentioning that this was the second live episode, the first being on International Women's Day in 2020, right before lockdown.
The pair even joked about "if the world shuts down again in about 2 weeks…it wasn't us!".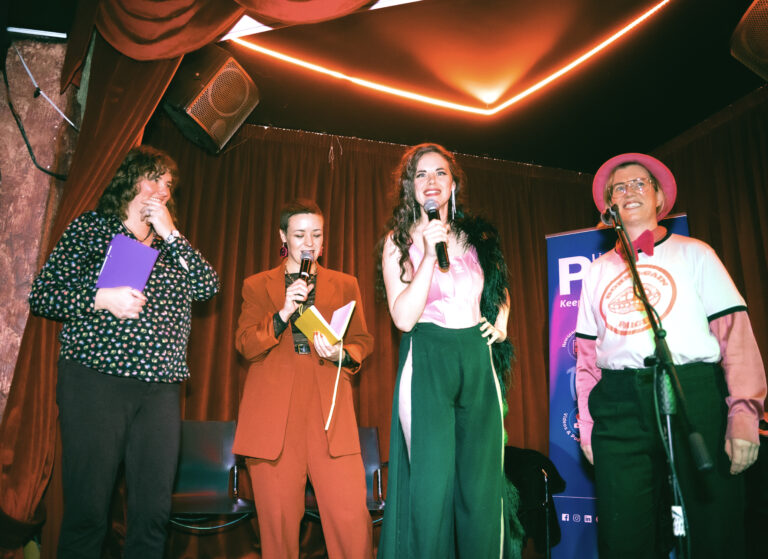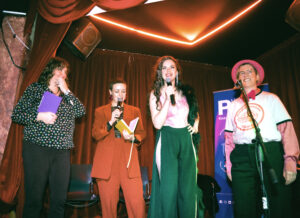 Sharon Slater was then welcomed to the stage and quickly began to speak about prominent people from Limerick who made waves within the community for things we now find simple, such as being part of the LGBTQ+ community.
Sharon is a historian in residence at Ormston House and was Grand Marshal of the Limerick Pride Parade earlier this year. She went on to talk about architecture in Limerick and how it inspires her to do research about the buildings, saying you "have to go backwards to go forwards".
She mentioned many people of significance such as Irene Clyde, Elizabeth O'Farrell and Limerick Legend Kate O'Brien.
Sharon apologized for going on a tangent and Emma cried out "Back to gays!" which gained a round of laughter from the crowd. After another few minutes of chatter, there was a quick break before welcoming the next gig on stage.
We were then treated to the musical stylings of musician Abe Soare.
This was a very important night for Abe as it was their first performance under their new name having recently coming out as Non-Binary. Abe mentioned they were born in Romania (but has lived in Ireland since being adopted at six months old) and still likes to pay tribute to the culture. For example Abe means Honest and Soare means sun. Abe was also wearing a sleeveless knit vest in the Romanian colours, along with frayed,ripped jeans and Fila runners.
Abe's first song was inspired by a trip to Inis Mor after a break up.
They have deep, genuine vocals and their soft new castlewest accent shines through during vocal runs. During this song, called Deja Vu, Abe shows off wonderful lyrics, vocal rasps and a wonderful cadence.
They then played their new song Oasis. Particular lyrics that stood out were "Give me answers I am searching for", referencing Abe's journey to discovering that they are Non-Binary.
Audience members looked on in admiration and Emma Langford could be spotted sitting off to the side of the stage with a "proud mama" look on her face.
Oasis will be released on January 12 alongside a music video.
After some banter and laughter-inducing guitar tuning, Abe closed their set with "The end of the Cornetto", enlisting some help from the audience with some backing vocals which got everyone excited and it was a wonderful way to end such a moving set.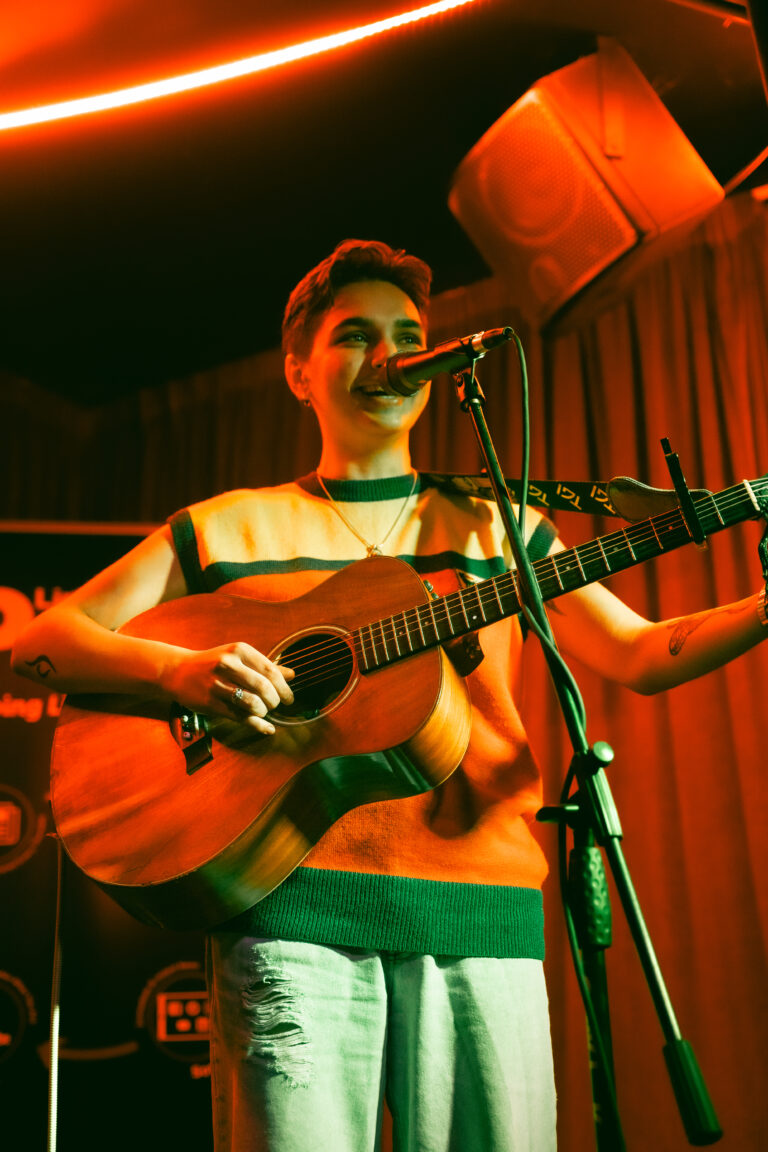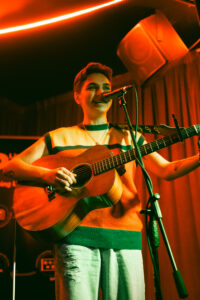 All in all, Abe was happy to have completed their first gig as Abe Soare and was "buzzing to move onto Pharmacia" with friends afterwards.
Abe feels much better about their mental health since coming out and could be seen smiling ear to ear all night. Their focus now is to go ahead with their rebranding as Abe Soare and keep the songs coming.
Emma and Ann then returned to the stage to ask Abe a few questions, thank them for coming and then introduced the final act; The Wild Geeze.
The Wild Geeze is composed of the hilarious dynamic duo Breda Larkin and Miss Laura Lavelle.
The duo's set up had a noticeable forest green theme. Breda was sporting a bow tie and bowler hat combo, guitar at the ready. Miss Lavelle was wearing a cream satin corset style top and heels. She also teamed together a double high slit forest green skirt and adorned matching boa.
The pair, who met a Cabaret night in Chez le Fab cafe, describe themselves a "queer-femme, tree loving, comedic singing act" that fall more under the Cabaret genre. They specified at the beginning of their set that they in fact not a couple and went on to make jokes about their shared love of women and lesbian culture.
When speaking to the lovely ladies afterwards they said they prefer the vibe of Cabaret events to all others, how it's much more "interactive and welcoming".
The pair stayed true to their roots and performed a full on cabaret set including raps, comedic timing during songs, props and for Miss Lavelle – a full on burlesque show!
The crowd went absolutely wild, full of thunderous clapping and screams of adoration. Emma, Ann and Abe returned to the stage for final thanks and bows before finishing for the night.
There was a great atmosphere as everyone mingled afterwards and as the drinks started flowing, some heading upstairs to the Commercial and others heading to Pharmacia.
Abe's music can be found on Spotify. The Limerick Lady podcast and Emma's music can be found on various streaming services.
The Wild Geeze older podcast Good Grief is still available and their new podcast The Wild Geeze can be found on Spotify.