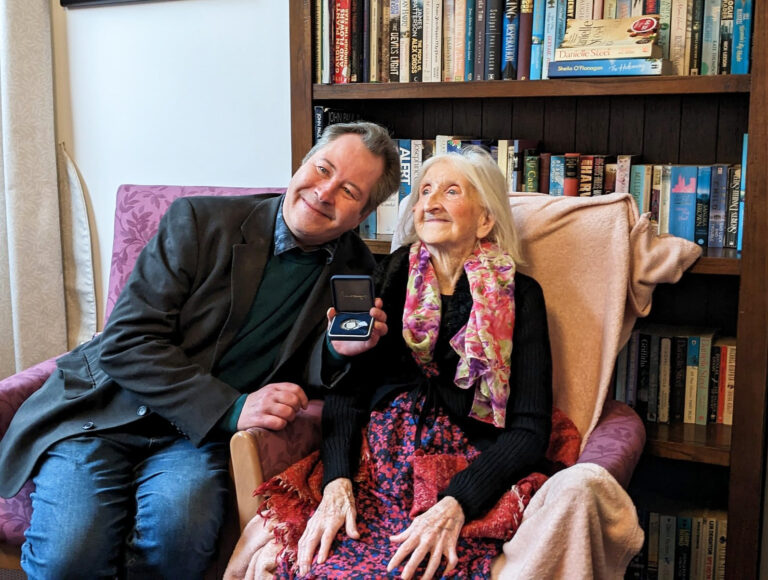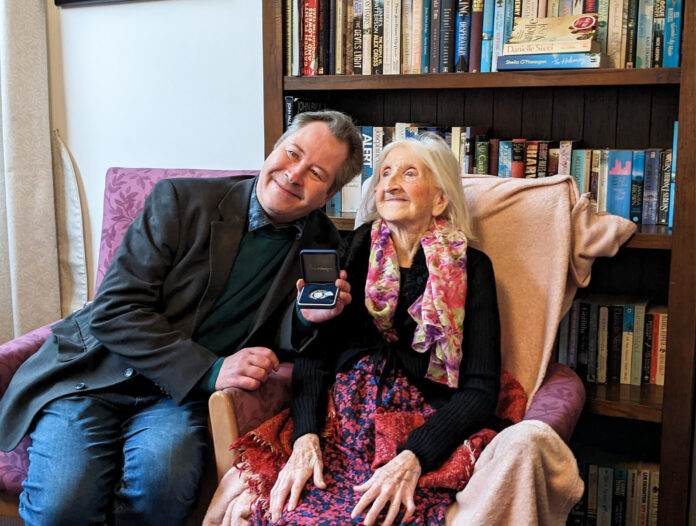 BIRTHDAY girl Bridie Breen celebrated her 102nd birthday last weekend with cake, cráic, selfies, and singing.
Mother to Limerick playwright and actor Myles Breen, Bridie celebrated her big day at Corbally Nursing Home with family and friends.
She also received a letter and medal – her second such medal no less –  from President Michael D Higgins on reaching this significant milestone.
Beloved local Panto Dame extraordinaire Myles Breen, who attributes his love of the of theatre and music to his beloved mother, was on hand for the celebrations.
"Thank you to @UachtaranIRL for the medal marking Bridie Breen's 102nd birthday! (Her second, here's to the third). The birthday girl with her family and friends had a ball. Special thanks to all at Corbally House Nursing Home," Myles tweeted afterwards.
"Cake, craic and singing", he also revealed, were all part of the special celebrations.
Married to the late publican Myles Breen Senior, Bridie's other son, John Breen, is the playwright who wrote Alone it Stands, marking the Munster win over the All-Blacks in 1978.
Born in 1921, Bridie was a champion Irish dancer and later managed the former Cecil Hotel in the city for many years.
Wishing her well on her 102nd birthday, many sent birthday greetings to Bridie online.
"Happy 102nd birthday to the effervescent Bridie," Jennifer McMahon tweeted.
"Amazing lady. Happy 102nd birthday Bridie," said Maeve McGrath.