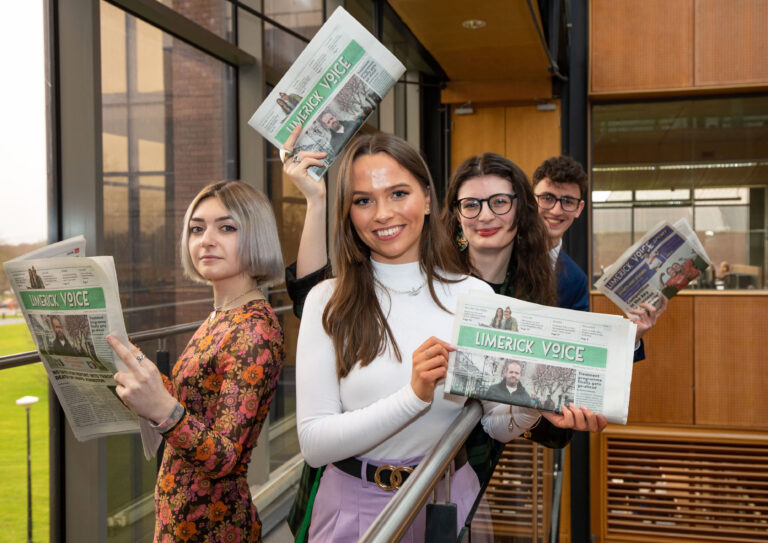 JOURNALISM students at the University of Limerick have made some good news of their own by producing the 16th edition of their award-winning local newspaper.
The Limerick Voice is a joint project between final year BA and MA Journalism students who worked together to write, create, and print a newspaper that focuses on stories that matter all around Limerick.
In recent years, the Limerick Voice has expanded to include a focus on digital content as well as the printed paper, with over 400 minutes of podcasts and radio news bulletins produced since September.
This year's Limerick Voice newspaper editor Ellen Gough said that the project gave students the "buzz" of what it's like to work in a real life newsroom, as well as getting them excited for a future career in journalism.
"It was such a buzz this morning, myself and Kathryn (Hayes, Course Director for BA Journalism and New Media) went down to pick up the papers.
She added that the experience of putting together the paper, as well as the website and digital sides of the Limerick Voice is crucial in helping the soon-to-be graduates prepare for a career in the media industry, no matter what medium interests them most.
"The Limerick Voice isn't just the paper, it's also the digital side of things, the website, the television, the social media. Most of us did placement in some sort of publication but this year has been a real grounding and understanding in all the different facets of journalism.
"It's an invaluable tool for students, I think this is one of the best journalism courses in the country. I'm just so proud."
Kathryn Hayes, who oversees the Limerick Voice project, says the publication is a culmination of a lot of hard work from students.
"It's a testament to the hard work that has been done by our final year journalism students here in UL. It also really illustrates how the project has developed across all multimedia platforms.
"Our students have done themselves, and Journalism at UL, extremely proud," she said.
In this year's edition of the Limerick Voice, five of the eight members of the editorial team are women, which is something that Ms Gough said shows a bright future for women in the industry.
"The future of journalism is very proudly female. That's very much reflected not only in the editorial team here but in the course – over half of us are women."