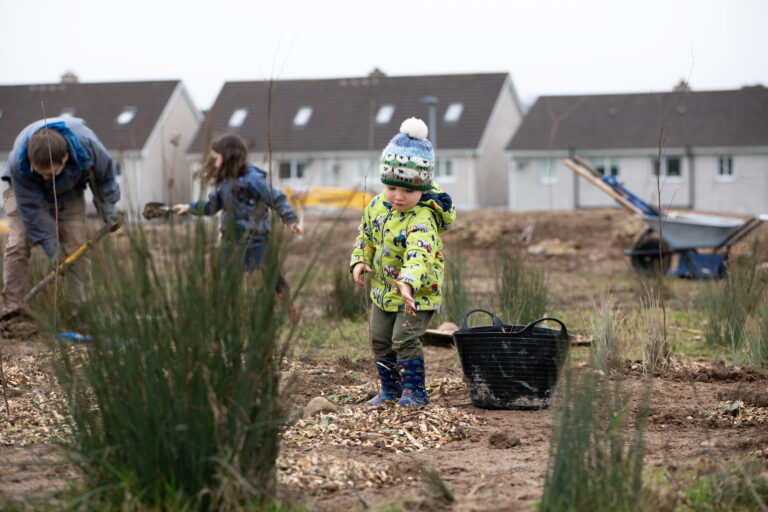 PUPILS from two Limerick City schools had some practical lessons in environmental education over recent weeks when they helped plant a small native woodland habitat along the route of the Castletroy Greenway.
The Choill Bheag project is a long-term educational, tree planting programme, initiated by LEAF Ireland and the Environmental Education Unit of An Taisce.
Its aim is to create small, dense native woodland habitats for biodiversity as well as an educational and recreational resource for the local schools and communities to enjoy.
Following engagement with Limerick City and County Council and local community representatives, students from Gaelscoil Chaladh An Treoigh and Castletroy College carried out soil tests, identified species that were already present and marked out an area for planting.
With the support of around 50 local volunteers, 250 native tree saplings were planted along the Greenway on February 4. The students planted a further 200 saplings three weeks later.  The area was then mulched to prevent grass growing up around the base of the young trees.
An information session is planned over the summer months to educate the students and local residents on how best to care for this new habitat and educational signage will also be erected.
Over time, it is hoped that the new habitat will become a treasure trove of biodiversity and place for the entire community to enjoy and benefit from.
Opened in 2021, the Greenway is a cycling and walking pathway that extends for approximately 820 metres, linking Castletroy College Road with the Dublin Road.
An initiative of the GoGreenRoutes project, the Greenway provides opportunities for social engagement, contact with the natural environment and active recreation, as well as enhancing local biodiversity and creating a corridor for wildlife.
Limerick City and County Council EU Project Officer Dr Sarah O'Malley paid tribute to LEAF Ireland for its role in bringing the Choill Bheag project to fruition.
"They were instrumental in bringing this about and their knowledge and support is greatly appreciated. On behalf of Limerick City and County Council and the GoGreenRoutes team, I hope the local community enjoys their Choill Bheag and the biodiversity it brings," she said.