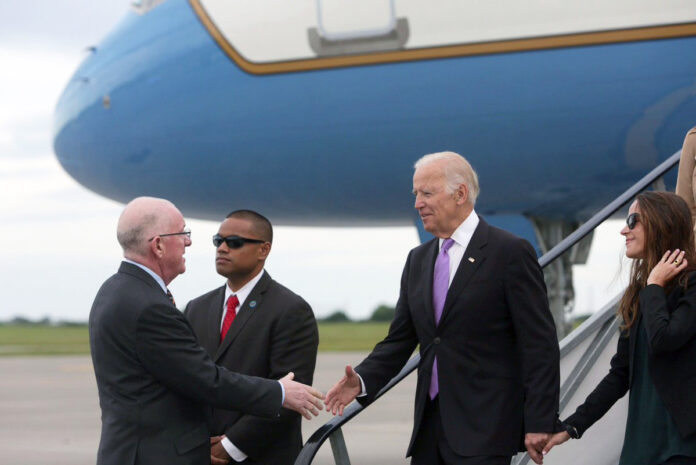 A LIMERICK man who was one of the founders of the campaign to persuade Aer Lingus to maintain its Shannon to Heathrow service has written to the US Ambassador urging her to ask President Joe Biden to fly to the Mid West airport when he visits Ireland next month.
Lisnagry businessman James Ryan also told Ambassador Claire Cronin that the airport has facilitated US military planes despite a storm of controversy and should not be forgotten for it.
He said the "people of Ireland are thrilled to hear of the visit by President Joseph Biden Junior to Ireland in April".
"It is especially important that the President takes the opportunity to make use of Shannon International Airport, which has the longest runway of any airport in Ireland, and with the best security.
"Tens of thousands of US troops have used Shannon on the way to and from the Middle East and other countries around the world.
"Shannon has endured a public bashing in allowing this, and so Shannon deserves to be supported now and not ignored during this US presidential visit."
He added that the drone situation around Dublin Airport is "non-existant at Shannon Airport, the safe and secure gateway to the Wild Atlantic Way and the beautiful West of Ireland"."
Mr Ryan has been campaigning in support of Shannon since the time Aer Lingus said it was cancelling its Shannon to Heathrow route.
"I was working in Taipei City, Taiwan, at the time and was a regular monthly user of this route connecting me with Hong Kong and Taiwan," he told the Limerick Post. 
"My wife Mary Jo and myself joined the many protest marches at that time in support of the reintroduction of the route.
"One year later, the non-commercial and woeful decision to abandon the Shannon Heathrow route was reversed." 
The campaigner said that Limerick TD Willie O'Dea "has been in touch offering support for the ongoing campaign in support of the employees of Shannon International Airport, and the massive number of industries and tourist outlets on the West Coast that depend on Shannon Airport and its connectivity to cities in North America and Canada.
"It this regard, someone from these vital industries as well as local politicians should be making contact with the White House to invite President Biden to land and take off at least once on his visit to Ireland."