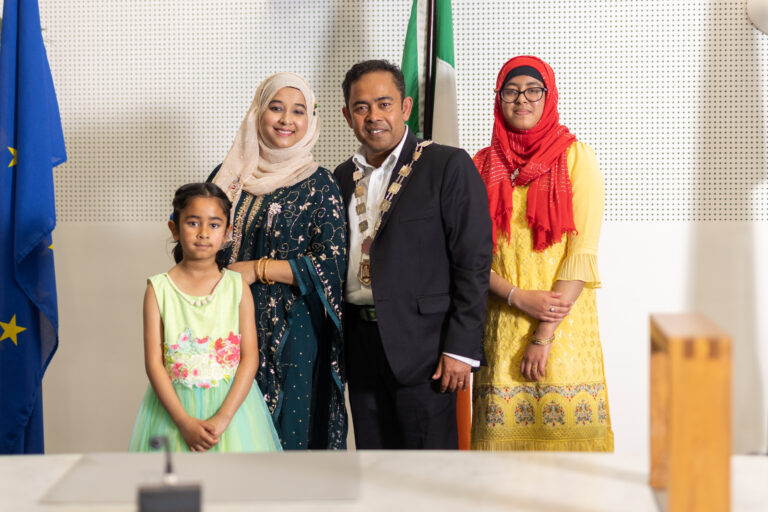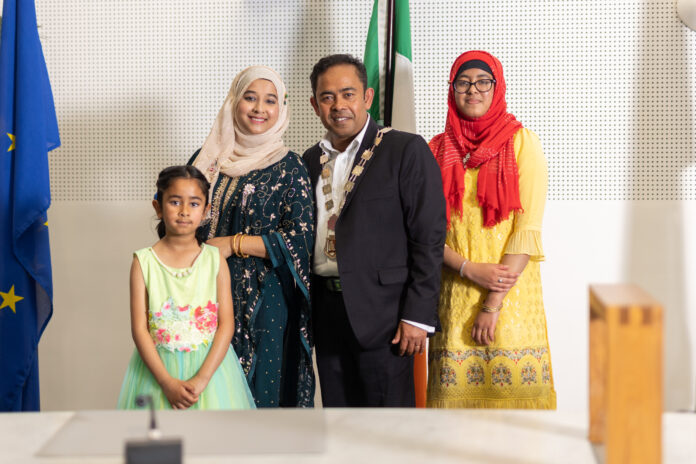 HISTORY was made in Dooradoyle council chambers this week when Fianna Fáil councillor Azad Talukder was elected as the new leader of the Metropolitan District.
The first Muslim ever to be elected as Limerick Cathaoirleach, Cllr Talukder was elevated to the prestigious post at Monday's annual general meeting after pipping Green Party councillor Saša Novak to the post by 13 votes to seven.
A 54-year-old businessman, originally from Bangladesh, Azad, affectionately known as 'Jackie' by his colleagues, moved to Ireland in 2000 where he worked in hospitality before setting up his own business and working as a taxi driver.
He is married to Shahana Akter, the couple have two daughters, Tashfia (7) and Amirah (16).
Cllr Talukder was first elected as a representative for Limerick City West in 2019 after campaigning to be a voice for migrant communities.
His opening words after securing the chains of office at County Hall, this week were "thank you Limerick".
Cllr Talukder then congratulated the Limerick senior hurling team on their recent five-in-a-row Munster championship success and predicted the likelihood of another All-Ireland final spot for the Treaty sporting heroes.
Azad's friend, mentor, and party colleague Jerry O'Dea, who passed away 12 months ago, was also very much in the new Cathaoirleach's thoughts on his special day.
"Jerry was a true friend of mine. His name comes from my heart, not only in politics, but he was a good friend of mine. I miss you Jerry."
Top of Cllr Talukder's to-do list for his year as Metropolitan Cathaoirleach was to see an integration officer installed on the staff of Limerick City and County Council to offer "easy access" for immigrants arriving in Limerick and to help them with the transition.
"Limerick is a multi-cultural city. If a person like me can sit here, it says a lot about Limerick. If you are from another country and you are living here and want to so something for Limerick, don't be shy," he suggested.
Fianna Fáil councillor and former Limerick Mayor, James Collins, who proposed Cllr Talukder as Cathaoirleach of the Metropolitan District, described him as the "epitome of a self-made man".
Seconding the proposal, Cllr Catherine Slattery (FF) revealed that her friend and colleague had told her how "Limerick City had given him a happy life".
"He works tirelessly and is a voice for all communities," she added.
Social Democrats councillor Elisa O'Donovan said that Cllr Talukder was "very much a Limerick man" and deemed his election as Cathaoirleach as "historic".
Cllr O'Donovan took the view that it proved Limerick to be a diverse city and felt it important the new Metropolitan leader represents that diversity.
Sinn Féin councillor Sharon Benson said that Cllr Talukder had made an "excellent Deputy Mayor" in 2020 and had no doubt he would make a "fantastic" Cathaoirleach.
Labour Party councillor Joe Leddin recalled fond memories of working with the Fianna Fáil man 15 years ago on community projects before he entered the world of politics.
"Diversity really is our strength," Fine Gael councillor Daniel Butler said on welcoming the new Cathaoirleach.
Director of Services for the Metropolitan District, Kieran Lehane, congratulated Cllr Talukder on his new role on behalf of staff and management of Limerick City and County Council.
"It is a wonderful thing to be elected as a councillor, but it is a very singular achievement to be elected to be leader by your peers. It is a very special moment," Mr Lehane said.
Fianna Fáil councillor Joe Pond from Annacotty, who was co-opted for the Limerick City East seat vacated by the untimely death of Councillor Jerry O'Dea, was elected Leas Cathaoirleach of the Metropolitan District.
Meanwhile, Fine Gael councillor Adam Teskey was elected as Cathaoirleach of the Adare-Rathkeale Municipal District at their annual general meeting on Monday.