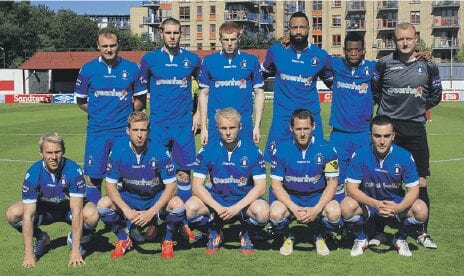 AFTER three consecutive away games and a mid-season break, Limerick FC are back in Thomond Park with a quick-fire double header this coming weekend.
Dundalk pay a visit in the Airtricity League Premier Division on Saturday June 29 and then the Super Blues host Sligo Rovers in the EA Sports Cup on Monday July 1.
Limerick return to their temporary home on the back of a five-game winless run in the league, in contrast to Dundalk's excellent form which has included a win over league leaders St Patrick's Athletic.
However, when the teams last met at Oriel Park in April, the Lilywhites needed two late goals to rescue a point against Limerick, and manager Stuart Taylor has taken valuable lessons from that game.
"I've learned that they're a team that plays right to the final minute. We lost two goals where the game should have been done and dusted. The game should have been put to bed by us. We scored two good goals and created another couple of chances. We had a late penalty claim turned down as well so there were more than enough opportunities for us to put the game to bed.
"What we've learned out of that game is that we've got to be more ruthless in our defending. We've got to be better in our game management and see results out. We know they're a team that's flying high at the moment. They're probably up with St Pat's as the most on-form team this season and I think they've caught a lot of teams off guard by their expectations from the start of the season to where they are now.
"They've got to be given a lot of respect and we've got to make sure that we go into the game well prepared, knowing exactly what it is we've got to do to win the game and we will be well drilled this week."
Defender Aaron Brown has left the club, but it is hoped that striker Craig Curran, currently on loan from Rochdale, will be signed on a permanent basis.
The Liverpudlian has become a fans' favourite and, with Limerick needing potency up front, Taylor is keen to secure Curran's services, although he doesn't believe that there is a goalscoring problem in his squad.
"I know how much the club means to Craig and one thing he's been taken aback by is his relationship with the supporters. A guy like Craig, you could offer him two jelly babies and a wine gum and he would sign because of what the club means to him. I'm confident that we should have things sorted with Craig and that's all credit to the supporters. Craig is huge for the club so hopefully things will be sorted out pretty quickly.
"I don't know where the problem is in the striking situation. There is no problem. Yes I'd love to score more goals, that goes without a shadow of a doubt. We could have scored 100 goals and I'd still want more goals because I want us to be creating chances and scoring goals every single week, but we need to take into consideration where we are at this moment in time. I would like more goals but there is no problem."