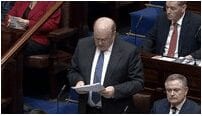 by Kathy Masterson
BUDGET 2015 has been heralded by Limerick's Government TDs as a step towards economic recovery and the beginning of the end of austerity, with the introduction of measures aimed at easing the pain on hard-pressed working families.
While some of the measures, such as changes to the Universal Social Charge (USC) and a cut to the top rate of income tax have been welcomed, several organisations in the region say Budget 2015 has not gone far enough.
Limerick Chamber of Commerce acting chief executive Dr. Órlaith Borthwick described the Budget as "a missed opportunity to support Irish entrepreneurs".
"The reality is that SMEs and entrepreneurs create employment and we must do more to support them if we want to continue to reduce our unemployment numbers. We anticipated more measures than were delivered in this budget to support that goal. Capital taxes remain too high and a more balanced and urgent focus on the job creating engine of SMEs is required," she said.
President of the Irish Road Haulage Association (IRHA) Eoin Gavin warned that Budget 2015 leaves haulage operators with "no option but to relocate".
Mr Gavin, who is managing director of Eoin Gavin Transport Ltd in Bunratty, says he is deeply disappointed that no change to commercial vehicle road tax was announced.
"The Association and its members are dismayed as to why Government has totally ignored the HGV road tax deferential between Ireland and the rest of Europe. There was not even a mention of the importance of the sector in the Minister's comments," he remarked.
Mr Gavin added that the Government's failure to amend the HGV tax rates "will result in a significant number of vehicles registering to other jurisdictions where operating costs are more favourable".
Education Minister Jan O'Sullivan announced that additional funding for the education budget will result in 1,700 new teachers and SNAs across Ireland.
Limerick INTO (Irish National Teachers' Organisation) representative Joe Lyons says that while this is to be welcomed, it won't reduce class sizes.
He told the Limerick Post: "This is merely to cope with the changing demographic, the increasing number of children. Class sizes will not get any bigger, but there will be no improvement either. The pupil-teacher ratio has been left the same. We are no better in terms of class sizes than we were 20 years ago.
"Also, special needs pupils have seen their one-to-one resource time cut by 15 per cent in recent years, there has been no improvement on that either."
Other local representatives were critical of this week's so-called neutral budget, with local councillor Cian Prendiville (Anti-Austerity Alliance) warning that the incoming water charges "will drive people further into poverty".
He added: "It is a farce to say that we have reached the end of austerity when all of the cuts and extra taxes which have been imposed continue to affect people daily."
Sinn Féin councillor Maurice Quinlivan commented: "To deliver a neutral budget we need to stop water charges. It is clear if this water tax is not removed the vast majority of people, which means those earning €30,000 or under, are losers in this budget."
Fianna Fáil TD Willie O'Dea said that most low income families are still worse off "because of a series of regressive measures brought in by Minister Joan Burton over the past three Budgets".